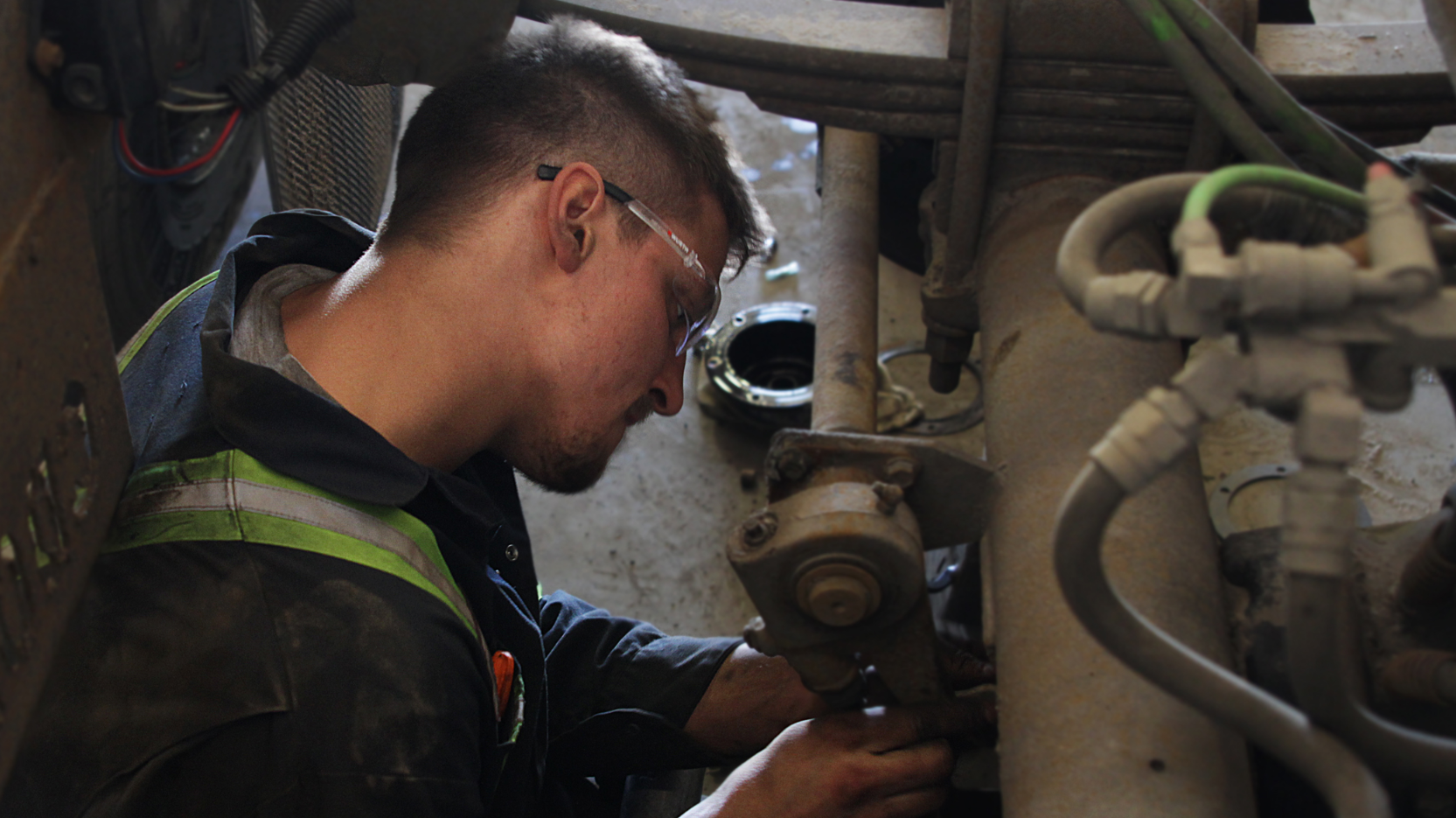 While there are many factors that can impact a technician's decision of where to work, one of the most common influences is the opportunity for growth. No matter the situation, it's important to have the chance to gain experience, develop skills and increase earning potential.
With facilities across Canada and a commitment to empowering our people at the heart of our Mission, many of Bison's maintenance team members have grown within our company and experienced great success.
One example of the growth opportunities in our business comes from Shane Irwin, who currently serves as the Manager of Fleet Maintenance in our Langley facility.
Shane started as a wash bay attendant at our Mississauga terminal before beginning his apprenticeship with Bison in 2009. Two and a half years later he had earned his Red Seal and, by 2014, he had already risen to be the Shop Supervisor in Mississauga.
"The motivation for me was the opportunity to have something I could call my own," Irwin said. "Our Director of Fleet Maintenance, Lester Davis, told me it was a blank slate and I would be able to make a footprint here."
While Shane's quick progression at Bison was certainly the result of a lot of hard work and commitment, he is also quick to recognize that the confidence placed in him by the organization was just as important.
"Bison places a lot of trust in their team members," Irwin said. "They threw me the keys to the building here, and we now have over 20 maintenance staff members. The fact that they trusted someone as young as myself with the amount of tooling and service we have to provide to our operational customers was cool to be part of."
Shane's sentiments were echoed by another Manager of Fleet Maintenance at Bison, Rob O'Neill, who also has taken advantage of opportunities and quickly built a successful career.
"My manager in Mississauga at the time was very good at focusing on apprentices and encouraging us to learn and grow within the organization," O'Neill said.
Now, as manager of the maintenance team in our Edmonton terminal, Rob says it hasn't always been easy adjusting to a new city and a new shop but he's soaking in everything he can and appreciates the challenge.
"I'm enjoying a lot of the learning experiences," O'Neill said. "Being a bit more on my own in Edmonton, I've had to learn a lot of things that might otherwise have been handled by other team members."
And in dealing with the learning curve, Rob has continued to seek the help of many Bison team members who have acted as mentors to him throughout his time with the organization.
"Being able to reach out and talk to people who have done it before and who have that experience, that's what I do whenever I run into a situation that I need some guidance on," O'Neill said.
Having benefitted from so much support en route to becoming leaders at Bison, Shane and Rob are now focused on giving back and doing their part to develop the next generation of maintenance leaders.
In bringing on new team members, the two managers focus on two aspects Bison's maintenance operation that they believe are key to our success: the atmosphere and the stability.
CLICK BELOW to learn about our Maintenance Opportunities!


"It's an atmosphere of equality and transparency between managers and technicians," Irwin said. "If you were to come into our shop today, guys would be singing, but they would be working hard. Sometimes they even miss breaks just because they're having so much fun doing their job."
Irwin has seen the impact that atmosphere can have through one of his technicians, George Tolentino, who recently moved out west from the Winnipeg shop out to Langley.
As for the stability, Rob has seen first-hand how tough it can be to secure work as a technician, especially in Alberta, but he stresses that it has never been an issue at Bison, no matter the location.
"In 13 years of being here I've been really impressed by the stability Bison is able to provide for its technician staff," Rob said.
From growth potential to proven stability and a great work atmosphere, Bison provides technicians and maintenance staff with the opportunity to build a successful career.
To learn more about technician and maintenance opportunities at Bison, please click here! Want to keep in touch with Bison? Please fill out your email below.