Winter highway driving can be tricky on a normal day. But when winds pick up as they do both along the Canadian prairies and through the mountainous regions in the West, this can lead to dangerous conditions for truck drivers.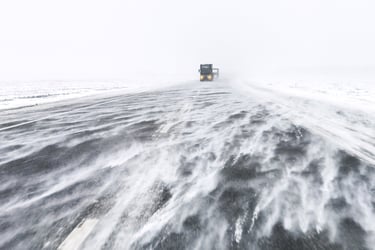 It's happened a lot this winter. In fact, The Weather Network compiled aftermath photos and videos of trucks off the road. There are precautionary measures drivers can take to ensure everyone's safety on the road.
Plan, plan, plan! Always check weather and road conditions before leaving on a trip. You can check in most states and provinces by calling 511. Some localized areas might have a different number to call. Regardless, in today's age of cellphone technology, there are also many free apps available that can give you weather updates, including wind expectations for the areas you are heading into. Head to your friendly app store and search weather or radar or both, then choose the best. It's very important to know what to expect so you will always be prepared.
Know your risks - Light loads or empty trailers definitely increase your risks. Be extra cautious if that's the case. Know that greater risks begin with winds gusting over 60 km/h, which can cause a loss of control, and winds over 90 km/h have been known to topple tractor-trailers. If you know an area you are heading into is experiencing winds that put you at high risk, check with your fleet team to see if there is an alternate route you could take.
Be ready for wind - When driving through protected areas, watch for and slow down before open areas and be ready for sudden gusts. Sometimes areas have high-wind or wind-gust warning signs. Be sure to pay attention to these. Be mindful of the trees and grasses because they can often indicate the wind direction and strength.
Unexpected wind - If you find yourself suddenly "fighting" unexpected heavy winds or are experiencing gusts, slow down immediately and assess whether you need to stop and wait. Strong winds are considered adverse conditions and require you to adjust immediately, just like rain or snow. Be sure to always let your fleet know what's going on.
Park safely - If you find you have to stop somewhere to wait it out, park near things that will block the wind, such as buildings or under overpasses, or treed areas. If you can't find such a location, try to park your unit so it's facing into or away from the wind, instead of broadside.