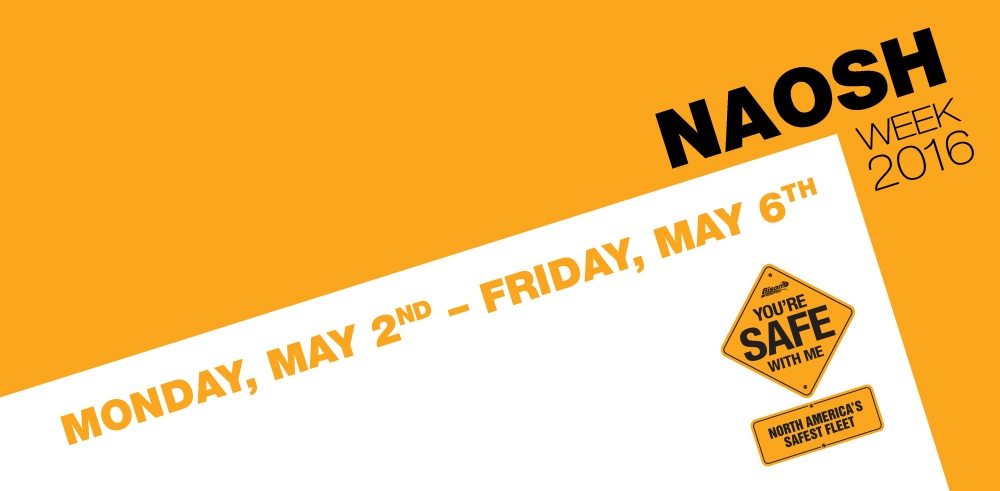 This year's theme for NAOSH Week May 2nd – 6th was to "Make safety a habit". Activities were held throughout the week and were designed to engage everyone at all Bison terminals. With these activities came prizes, and lots of them. Participation in an activity earned a stamp on your "safety passport" for a chance to win the NAOSH Week grand prize.
The goal of the NAOSH Week activities and events was to highlight workplace health and safety awareness, to equip them with tools, information, knowledge, and to educate each other with positive attitudes and behaviors that will convey commitment and confidence at work.
We hope that NAOSH Week brought awareness on how you can work safe! The decisions you make in the workplace not only affect you and your ability to get home safe at the end of the day, but they also affect those around you, in the office, maintenance shop, warehouse, and on the road.
Last year we saw a 14% reduction in workplace injuries, our best year on record! Everyone's commitment to safety contributes to this downward trend.
Bison's 2016 NAOSH Committee worked hard to prepare this year's activities, some of which included:
NAOSH Kick-Off Event: Opening announcements about NAOSH week, with speakers in each terminal explaining what NAOSH week is about, announcing recent safety awards, and the new 2016 Safety Contest.
Safety is Sexy Fashion Show: Bison was asked to come out for the Manitoba kick-off event at The Met downtown, to showcase the "Safety is Sexy" fashion show. This was part of the Canadian Society of Safety Engineers kickoff event.
Each year, organizations that participate in NAOSH Week receive a certificate and have the opportunity to apply for the Canadian Society for Safety Engineers (CSSE) NAOSH awards. Last year, Bison Transport was acknowledged with the "Best Committee Involvement" award at the CSSE awards ceremony in Manitoba.
Safety Passport: This was everyone's passport to prizes. Employees who participated in NAOSH activities received a stamp for every activity they participated in earning them a chance to win the NAOSH grand prize.
Children's colouring contest: All Bison employees' children, grandchildren, niece, nephews etc. could participate in the colouring contest.The contest ran all week with prizes handed out in each terminal.
Safety Video Loop/High Visibility set-up: A video was set up in each terminal, with a loop of videos playing all day/all week. The videos includ: Injury prevention series, New Worker orientation video, and "Aint got no traction" video. The high visibility set-up is a 4x4 display, showing the effectiveness of wearing high visibility safety gear.
Safe work/PPE spot prizes: $5.00 gift cards were handed out randomly throughout the week to employees demonstrating safe work or who were spotted wearing Personal Protective Equipment.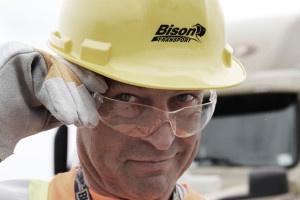 Safety Driven Safety "Carnival": Safety Driven BC was in the Langley terminal to engage employees in numerous safety activities. Safety Driven BC provided this service to us as part of the COR mentorship program.
Dolly Cranking Demonstrations: Cranking dollies is one of the leading causes of workplace injuries at Bison Transport. This task can lead to long-term injuries when not properly executed. Employees were able to get a firsthand look at how to safely crank dollies, the dos and don'ts of posture and how to deal with equipment that is not operating appropriately.
Pre/Post Trip Inspections, Tractor tours: Don't know what bogeys are? What's a 5th wheel pin? Never seen the inside of a tractor? Don't have a clue what our Drivers go through every day? This was a perfect opportunity to take a tour of our state of the art equipment, inside and out. Our professionals showcased exactly what a pre/post trip inspection consists of. This was a demonstration was great for non-driving staff.
Blood Pressure Monitoring: Concerned about your blood pressure? Employees had the opportunity to have their blood pressure checked by a nurse to see if they were at risk of heart disease or high blood pressure. Several organizations visited Bison to take the blood pressure of interested employees.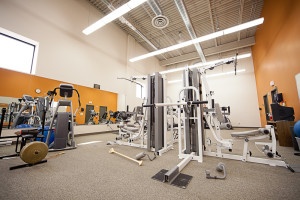 Personal Fitness Trainer: Employees could learn how to get in shape, lose weight, and live a healthy lifestyle. Bison's very own Rob Ang, gave participants the opportunity to ask questions about their personal fitness goals, with tips and tricks on how to get active! Bison has workout facilities at many of our terminals and we have a health and wellness program too!
Escape Challenges and "safe" breakout boxes: Teams got together for this ultimate safety challenge. They solved safety puzzles and clues to break into a safe and to be crowned the safety genius in their terminals. Ultimate Lockdown created a mobile escape room for the Winnipeg event.
Fire Extinguisher Training: Have you ever had to fight a fire? Do you know how to use a fire extinguisher? Employees got to try their hand at putting out a fire. A great opportunity to learn something that may, one day, save their life! Fire extinguisher training was donated by Bison Fire Protection and used a BullEx system which is a digital simulator for the training.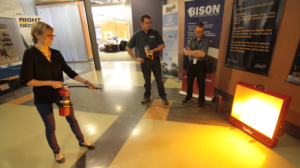 Impaired driving simulator: In Canada, over 1,800 impaired drivers are killed annually. This is a staggering number. Our staff experienced a simulated version of impaired driving, in a controlled environment, to see the true risks of driving impaired. This was provided to us, by Safety Services Manitoba.
Medi-Gas Sleep Apnea Booth: Employees could learn about what sleep apnea is, how many hours of sleep someone should get and the different types of treatment at the Medi-Gas booth.
AED Demo: What is an AED, and HOW do you use it? There were demonstrations in each department on AED's and how to use them. Provided by Find First Aid in Winnipeg.
Heart Healthy Lunch and Snack: To promote healthy eating, we had a "heart healthy" lunch and snack on Friday, May 6th in all terminals.
Feats of Strength (Edmonton, Calgary, Winnipeg, Mississauga): Bison employees had a chance to participate in a mind, body & soul strength challenges.
We are dedicated to making Bison Transport the safest place for everyone to work. Your participation and commitment to bringing awareness to the everyday safety hazards and concerns in our workplace is what sets Bison apart from the rest. We are continually striving to do better things to improve safety in our terminals, warehouses, maintenance facilities and on the road.
How are YOU going to make safety a habit? Please comment below!