Truck Drivers often spend many days alone and away from home. Wouldn't it be nice if you could bring your pet with you while on the road? At Bison Transport we have a program that enables our professional Drivers to bring a furry companion with them in the truck.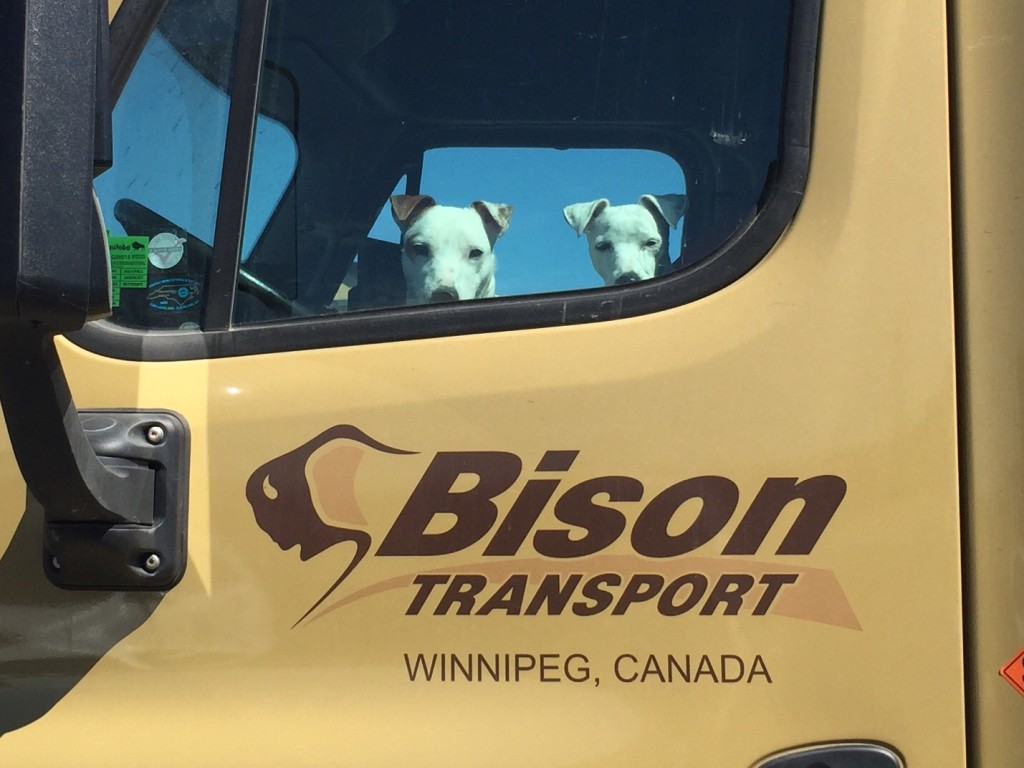 We interviewed Bonnie Cooper; one of our Company Drivers that brings her dogs with her while on the road:
1. How many dogs do you have?
I have 7 dogs in total. 3 are Jack Russell Terriers, 3 are Chihuahuas and I have one Australian Shepard. At most, only 3 of them travel in the truck with me at one time.
2. How long have your dogs been travelling with you in the truck?
One of my Jack Russells, Avalanche, has been with me in the truck since I first started at Bison in 2011. Allowing pets in the truck is one of the reasons why I chose to drive for Bison. The other Jack Russell in the picture, Chip started his passenger career in October 2014.
3. Do you have a funny story of any of your dogs on the road?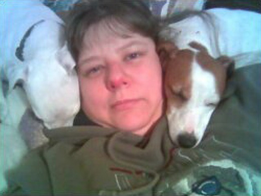 A little while ago I had a container of cookies on the floor in the cab of my truck. I can usually trust Avalanche to not touch my food… or at least I thought I could. When I would stop to do a vehicle check and re-enter the truck, Avalanche would always look very guilty and quiver on the bed. I couldn't figure out what was wrong other than she looked guilty. I looked over at my other dog Cracker (Avalanche's mom) to see if she did anything. While looking over I realized that Avalanche had been sneaking crumbs from my cookies every time I did a vehicle check. The funny thing is she never took the whole cookie just the crumbs!
4. Are some truck stops/gas stations accommodating to dogs?
Some truck stops and gas stations have areas for dogs. Some have fenced-in spaces and others have marked areas. This is much more common at locations in the United States. The Husky in Saskatoon has a fenced off area for dogs. Although most locations don't have designated areas for pets, most allow you to walk your dog around their property as long as they are on a leash.
One cool thing that I have seen at several truck wash stations is a separate area where you can bathe your dogs.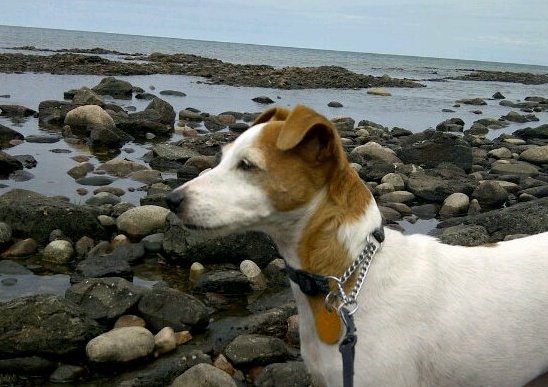 5. Do you face any challenges travelling with your dogs?
About the only challenge I face when travelling with my dogs is during the off chance that the truck breaks down. I have to make sure that the hotel I book allows pets. That's when I was long-haul, now being on a scheduled run I have to make arrangements for my dogs because I would have to use another truck to finish the run. Pets are only allowed in that assigned unit so if your truck breaks down and you need to use another truck you will have to go through the pet inspection process again.
Another potential problem that I do fear is if one of my dogs gets sick on the road and requires vet attention.
6.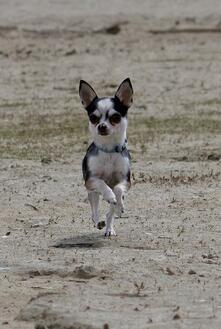 Why is it important for you (or other Drivers) to have your pet(s) on the road with you?
I feel it's important to have my dogs with me while I work because they help prevent loneliness on the road. Truckers work in a very isolated environment, often times with minimal exposure to other people. My dogs help overcome this loneliness. I also feel much safer with my dogs in the truck. Having a pet in the vehicle helps me stay more attentive, alert, and vigilant behind the wheel. Dogs are also a good form of protection. Most people won't bother a truck if there is a dog inside.
I am grateful for the pet policy at Bison. It improves my work experience on a daily basis allowing me to bring my best friends along while I am on the road!
There are a couple requirements to qualify for the Pet Policy at Bison. You must:
Be a full-time Driver with an assigned truck
Complete an online distraction and fatigue course
Pay a $250 deposit
Have your truck 'pre-pet' inspected
Bonnie started with Bison in June 2011. She is on a scheduled run hauling turnpikes from Regina to Grenfell. Recently, she won 2nd place in Single Tandem division at the Saskatchewan Professional Truck Driving Championships!
If you or someone you know is looking to drive for a carrier that allows pets in their trucks call us at 1-800-GO-BISON, send us an email at drive@bisontransport.com, or visit us online for more information.