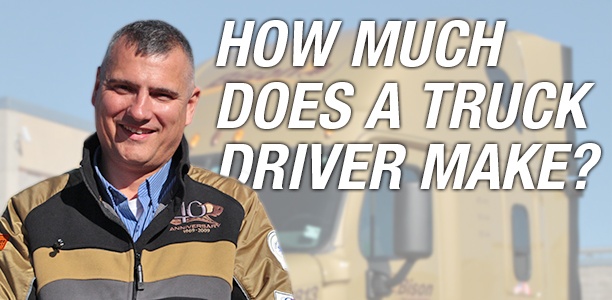 The trucking industry has faced persistent driver and capacity shortages for many years. The easy answer to a capacity shortage is to put more trucks on the road, but with nobody to drive them, that solution falls short. This is good news for professional drivers or those considering a career as a professional driver, as there is a lot of opportunity for them in today's job market.
But what should a truck driver expect in terms of salary? How much do other drivers make? These questions aren't easy to answer because a wide range of factors affect a driver's salary, including the equipment they drive, whether they are an owner-operator or a company driver, what type of routes they run, and more. This blog post shows some industry statistics of pay and also teaches new drivers how to maximize their earning potential and find the best fit for their lifestyle.
Base Pay
Many factors may contribute to a truck driver's wages, but narrowing down national averages and base rates give us a good starting point. It's easy enough to Google "Canada truck driver salaries" and come up with a basic range to get started. Doing so, you'll find that a truck driver in Canada typically makes somewhere between $38,000 and $79,000 per year. As of the date this post was published, Glassdoor lists the average salary for a truck driver in Canada as $59,000.
The definition of "truck driver" is vague and could refer to being a cube van delivery driver for a local furniture store, for example, and it also includes part-time workers. Professional drivers working full-time with a reputable carrier in Canada, definitely work hard, but they would make significantly more than these averages suggest.

To further complicate the simple question, "How much does a truck driver make?" most of the pay ranges you'll find on a basic Google search apply to company drivers, not lease or owner-operators.
Company Drivers
For company drivers, the trucking company covers most significant costs, such as fuel maintenance, benefits and insurance, allowing the driver to focus on the job at hand. While the basic numbers reveal a truck driver can make up to $79,000, more can be made if that driver gets certifications and additional training, such as LCV (long-combination vehicle) and FAST (Free and Secure Trade) card.
Work type and route selection can impact a driver's paycheque. Regional drivers make less than over-the-road. Moving hazardous materials (HAZMAT), for example, bulk fuel, nets more than packaged consumer goods, such as lettuce or toilet paper. Generally speaking, the more difficult the job and the longer a driver needs to be out, the more the customer will usually pay.
Owner-operators
Owner-operators are not employees, they are independent contractors and enter a business relationship with a trucking carrier. Owner-operators assume all of the risk when it comes to equipment maintenance, fuel and benefits, but also stand to make more money. While they cover their own equipment costs, maintenance, and benefits package, they also keep every cent they earn above that overhead.
According to PayScale, as of the date this blog was published and based on user-submitted information, an owner-operator in Canada generates a gross income between $39,000 and $198,000 per year.
Safety, Utilization and Other Bonuses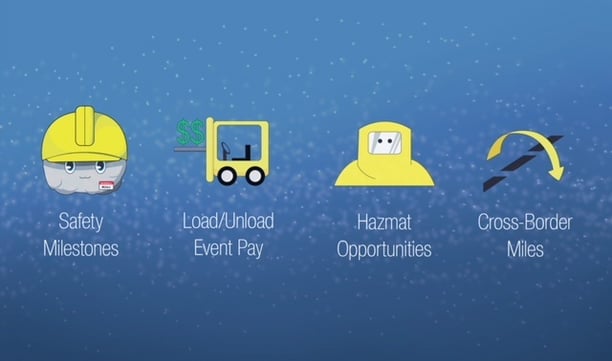 Many company drivers earn bonuses above their usual pay. It is common for companies to offer a referral bonus for drivers who recommend candidates that get hired. There are many other benefits that company drivers can look for in an employer, including:
Safety milestones. Many companies offer safe-driving bonuses for going a certain number of miles without an accident.
Load/unload event pay. Some drivers are paid for the time it takes to pick up and deliver.
HAZMAT. They call it "hazardous" for a reason. Holding the proper certifications to safely transport dangerous goods can create additional opportunities to haul specialized freight or run additional miles, especially cross-border.
Cross-border miles.

Many drivers receive a per-mile bonus for every mile they log outside of their home country and usually would be compensated every time they cross the Canadian/U.S. border.
Non-Mileage Pay
While salaried drivers do exist, most drivers are paid by the mile. That means if they aren't moving, they aren't making money.
Spend time at any loading dock with a long line of trucks and you'll find out quickly which drivers don't get compensated for sitting still. To avoid this dilemma, truck drivers should seek companies that embrace technology and focus on efficiency. Look specifically for a carrier that operates with electronic logging devices (ELDs), as these carriers generally have the most efficient networks.
Perks and Benefits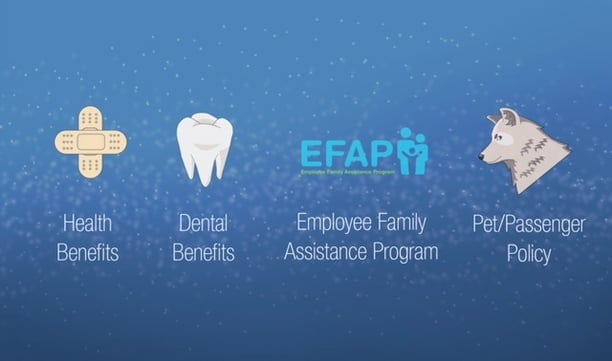 Pay shouldn't be the only consideration when selecting a company to work for. A robust benefits package can easily offset a few cents per mile more at another carrier. Here are a few benefits savvy drivers should look for from their employer:

Health benefits. Drivers should make sure their carrier offers a good flexible health plan so they can address any issues that arise. You should also look for a carrier that makes health and wellness a priority and provides ways for you to be more active.
Dental benefits. For most adults, visits to the dentist's office aren't covered under provincial healthcare plans. Many workers look to an employer for this benefit. This can lead to cavities and other dental concerns meaning a good dental plan is preferred by workers in a wide variety of industries.
Passenger/pet Policy. Professional drivers spend a lot of time on the road and see a lot of Canada and the U.S., so a driver bringing on the road his or her spouse, children or four-legged friend adds a lot to job satisfaction.
EFAP (Employee Family Assistance Programs). These programs are more common place and support and assist employees and their immediate family members in assessing and resolving work, health and life issues.
These are just a few of the benefits that carriers offer. When exploring opportunities with a new carrier, make sure to ask what makes their benefits package stand out from the competition.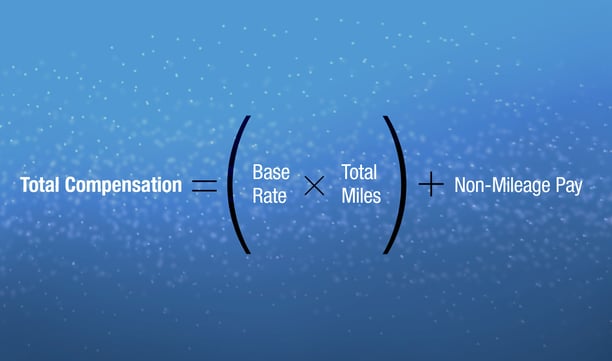 Summary
Drivers should look for a company that uses the latest technologies to help drivers do their job (digital paperwork, electronic logging). Good employers are those that have the best tools to keep drivers moving while on the road, which maximizes earning potential for the driver. Drivers should inquire about a potential employer's clients and routes. Ask at what percentage of capacity they typically operate. Drivers need to know in advance if a company can keep them moving and earning.
By far, the greatest impact on a driver's compensation is the carrier's ability to keep them moving. If a driver is waiting for days and is forced to have a reset on the road while waiting for a load or plan, it will drastically reduce their earning potential.
Choosing the Right Company for You
When vetting carriers and job offers, it's important for drivers to understand the industry, the earning potential at that carrier, and be realistic to themselves and their potential new employer about what the work-life balance needs to be.
Remember, drivers have a lot of options in the current job market, so they should take time to find an opportunity with the right carrier—one that respects the value of its drivers and compensates them accordingly.
Even though compensation is a very important factor to consider when choosing a carrier to drive for, it's certainly not the only factor. To find out what other factors you might consider, download our guide below.