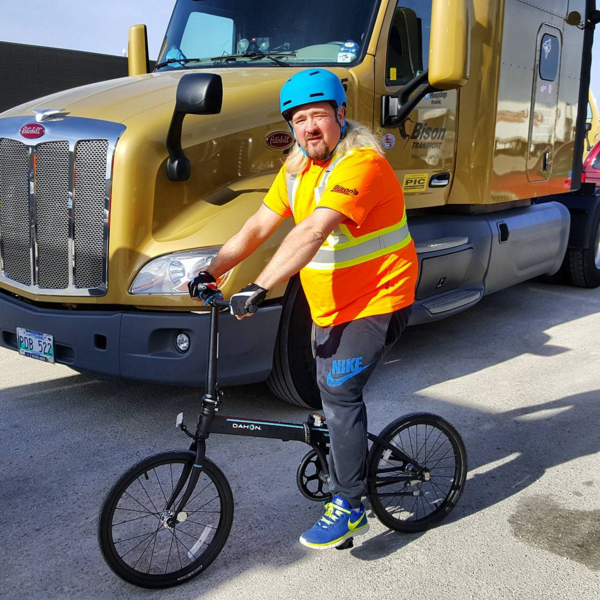 Professional Truck Drivers, as many professionals, are required to sit for extended periods. Add to that, long days and limited healthy meal options on the road; can make it difficult to eat well and get exercise on the road. Here are some eye-opening statistics from the Centers of Disease Control about obesity in the trucking industry!
Bison is very focused on promoting health and wellness for our people. We have workout facilities in most terminals, we train new Drivers on healthy eating and we provide consistent promotion to our people about working toward a healthy lifestyle.
Any time that we can make health and wellness easy and accessible, it is a big win for our Drivers.
We are excited to partner with DAHON folding bikes for the summer of 2016. We will be road testing a couple bikes and conducting reviews of them, and we even have a contest to win one!
Meet Roger. He is a professional Company Driver with Bison and has been with us since 2006. When we approached him about testing the bike this summer he was immediately excited. He called his wife, decided to focus on biking off some extra pounds this summer and then went and got a new helmet in classic "Blue Jays" blue!
Check out this video as Roger takes his first ride:
Would you like to have a folding bike also? Now is your chance! Please click below to enter the contest for a DAHON folding bike!
THANK YOU! We would like to thank DAHON folding bikes and Live to Play Sports (@LTP_Sports) for providing two prize packs for this contest and for their commitment to promotion Driver health and wellness.