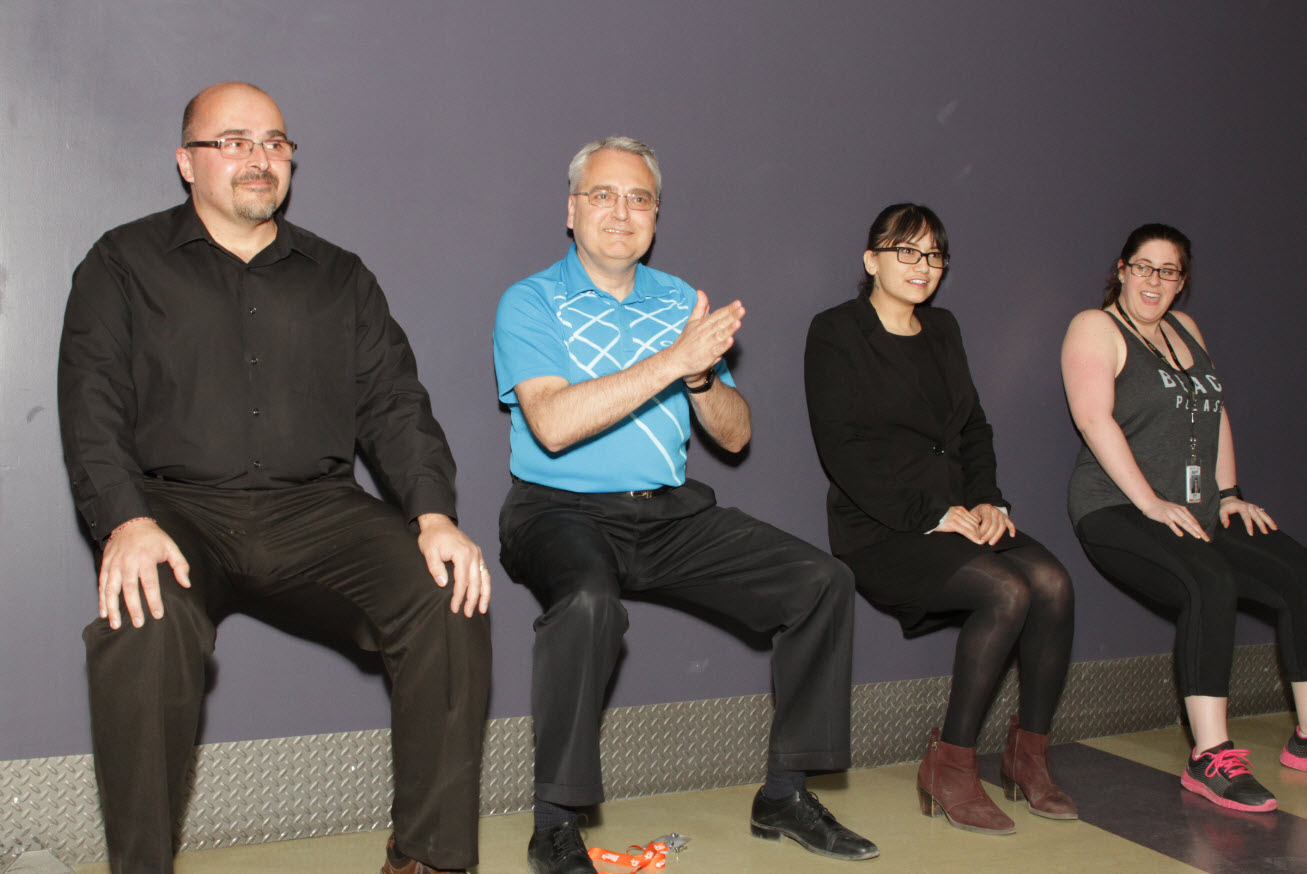 Throughout the year, Bison puts on a number of different activities for employees to participate in. NAOSH (North American Occupational Safety and Health, May 1- 7) Week was no different. With the NAOSH theme being "Make safety a habit", Bison explored many ways to encourage employees to participate in safety activities. Some of which included: a fire safety demonstration, a sleep deprivation booth, AED demonstrations and our own Bison Feats of Strength!
Each month, Bison holds Random Act of Wellness events, to encourage participation in fun and friendly competitions. But during NAOSH Week, Bison holds one of it's most popular wellness events, our annual Feats of Strength competition, promoting health and fun at the same time! Each terminal hosts the competition in a way that best suits their population.
In Winnipeg, we have 5 events that take place over the lunch hour to get employees out of their desks and moving! In the Winnipeg terminal, almost every department submits a team, this year we did:
Safety related trivia - Industry knowledge and fast thinking were tested. We asked questions like: What does SAFE stand for? Who is Bison's Workplace Health & Safety Leader? What does CPR stand for? What does AED stand for? What does WHMIS stand for?
Pong - Each person takes a turn throwing a ping-pong ball into the cup. Take a look at our demonstrator Kiley, she gets it in the first time!
Ghostbuster pushup/planks - Here is how you do those: Everyone does straight arm planks but each time the song says "Ghostbusters!" you do a pushup. Turns out there are 21 Ghostbusters in all with 11 in the final 45 seconds of the song! There were a lot of shaking arms but a couple people made it to the end!
Yoga poses - Namaste. With focus and drive, which person can center themselves for the longest?
Wall sit - A test of pure endurance! Who can last the longest!
Each team member is assigned to the task that best suits their strength: trivia for the brains of the bunch, pong for those with the most coordination, yoga to test balance and patience and, the planks and the wall-sits to test physical stamina. This event is just one of the many examples of how Bison promotes Wellness for the Long Haul!
If Bison office staff or Driver happens to be passing through a terminal and see a wellness event going on during the lunch hour, we encourage them all to jump in and participate!
To read more about the activities that were held at Bison during NAOSH week 2016, click here.
To read more posts about Bison and wellness check out these posts:
The Beginning of a New Lifestyle!
Freightliner's FIT System: Helping Drivers Move More Than Just Freight
We Move Goods…Now We Must Move Ourselves