As Canada's first tri-modal inland port and Foreign Trade Zone, CentrePort offers direct access to national and international rail, truck and air cargo operations.
More than just a trade centre, CentrePort expects to bring major change to the Winnipeg landscape, driving economic growth and adding value to the community.
We sat down with CentrePort President and CEO, Diane Gray, to learn more about North America's largest inland port and the impact it could have on the local community and North America's transportation industry. As a transportation leader, Bison Transport is heavily invested in the development of our industry and we are excited to partner with CentrePort as we continue to drive our economy.
This is the final instalment in our four-part series:
CentrePort and the Trucking Industry
While CentrePort certainly has the potential to make a positive impact on a much larger community, there will obviously be a very direct impact on companies like Bison and the trucking industry - with 70 per cent of the industry already located in the CentrePort area.
For starters, the port provides trucking companies with a clustering of economic development making it very easy to pick up and deliver loads quickly from their location.
Additionally, as CentrePort continues to grow, the plan is to encourage the development of additional trucking support services in the area. Truck washes, service bays, training programs and other essentials for companies and Drivers are already starting to spring up.
The port, which will also soon include a residential community, is closely connected with colleges and training centers and has partnerships with local secondary and post-secondary institutions. All of this is by design; an effort to help trucking companies and their Drivers easily live, work, play and learn in one place.
How does CentrePort benefit Drivers?
CentrePort is also making a concerted effort to ensure an improved experience for Drivers, rather than simply working to bolster big business.
With a new residential community planned on the footprint and high-speed road access, the port will offer Drivers the opportunity to live close to their work as opposed to dealing with frustrating commutes after a long day on the road. The community is expected to provide a range of housing options for more than 8,000 residents.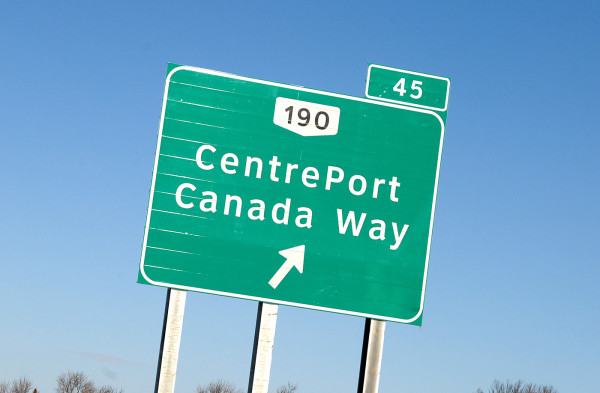 CentrePort Canada Way also provides Drivers an easy way in and out of the city without having to navigate through traffic and narrow streets. The plan is to continue to resist controlled intersections in order to maintain an expressway-like experience, maintaining the "5 minutes to 55 mph" goal that the highway was built to accomplish.
The holistic plan for the footprint will also put Drivers in close proximity to the services they require. Many Drivers will be with companies who don't necessarily have private facilities on the property, so CentrePort encourages development by businesses willing to provide services such as restaurants, showers, maintenance centers and other trucking essentials to make the experience as Driver friendly as possible.
There are also plans to build a business park that would facilitate the development of personal services such as insurance sales, daycare and other conveniences that further the community approach and send a clear message that CentrePort is thinking about the individual worker, not just the larger corporation.
"While industrial development is at the core of our mandate, we know that it is important to plan for housing and to encourage the growth of services that people rely upon, from restaurants to banks and dry cleaners," Gray said. "The live, play, learn experience is very important as we continue to strive to make CentrePort a great place to work."
Click here to read CentrePort (Part I): The Birth and The Future.
Click here to read CentrePort (Part II): Growth and The Economy.
Click here to read CentrePort (Part III): Sustainability and The Community