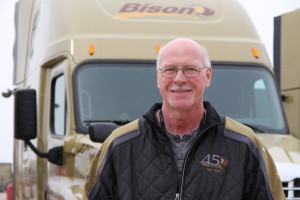 Bison Transport is excited to announce that Roger Maltman of Winnipeg has become its first driver to complete three million consecutive accident-free miles.
Roger has been a company driver at Bison since September 1994 and has explored many different lanes throughout his 21-year career with us. He reached the milestone on his way to Calgary on Tuesday.
"Ultimately it's me behind the wheel, but there are a large group of people doing their jobs with expertise, which enables me to do mine at a high performance level," Roger said. "We have the best equipment there is and a great operations staff."
Roger has run 1.8 million of his safe miles as part of Bison's long combination vehicle (LCV) network, hauling two 53-foot trailers simultaneously with a single tractor. Long combination vehicles are cost-effective, induce less stress on the highway system and are environmentally superior in terms of fuel consumption and Greenhouse gas emissions.
"Roger has been a model of consistency in our organization and achieved this milestone through his incredible dedication to safety," said Garth Pitzel, Director of Safety and Driver Development. "He has represented Bison and the transportation industry with the utmost professionalism throughout his illustrious career."
As for advice for less experienced drivers hoping to one day reach similar milestones, Roger stresses the importance of staying focused on the moment and being aware of your surroundings.
"You always have to concentrate on the next mile," Roger said. "You have to know your equipment, always be paying attention to traffic and using clues to anticipate what might happen next on the road."
As North America's Safest Fleet for 10 consecutive years, Bison values Drivers like Roger for their industry leading commitment to safety and service.
"High achievements like this one do not happen by mistake, it takes desire, teamwork, and discipline," said Jimmy MacNeill, Manager of Dispatch. "Roger has set a new bar, becoming the first ever Bison member to knock down this wall."
Here are some statistics to put Roger's three million mile accomplishment in perspective:
You would have to follow the equator around the earth 120 times to reach three million miles.
A spaceship could travel to the moon and back six times before it travelled three million miles.
A commercial jet would need to travel at 600 miles per hour for 208 days straight to encompass three million miles.
You would need to drive 60 miles per hour, 24 hours a day, seven days a week for six years to hit three million miles.