As North America's Safest Fleet, and the recipient of over 30 industry awards since 2010, Bison Transport has a strong understanding of the hard work and dedication required to be recognized as an industry leader.
"Bison Transport is the best in the business because our organization has always been full of great people," said Rob Penner, President and COO. "People who care about themselves and who care about others, who lead by example, who are safe and professional and who each make a difference."
With that in mind, Bison has created one of the industry's most comprehensive Driver recognition programs. From safety incentives to mileage milestones, Bison's Drivers are always rewarded for hard work and their commitment to safety. We also take time to recognize our dedicated office staff, who work tirelessly to support our Drivers and continue to push our organization forward.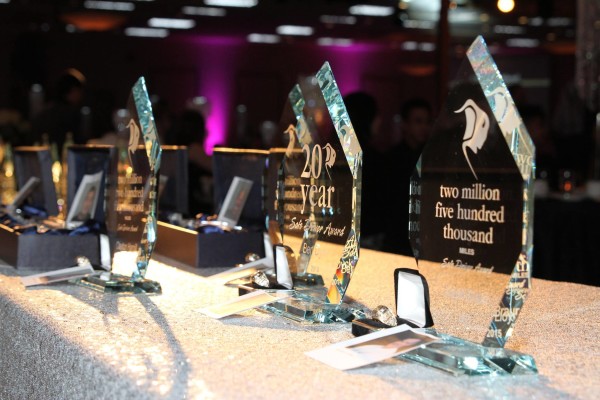 Awards are great, but they go down even better when accompanied by a gourmet meal and great company. Each of our terminals hosts an Annual Dinner and Awards Celebration where we hand out our Years of Service and Safe Driving Awards to our Drivers and various different awards to the rest of our team.
This year we have 754 Drivers receiving safety awards. These awards recognize our Drivers for achieving a total of 243 million safe driving miles and 701 years of consecutive safe driving.
Our Mississauga and Winnipeg awards dinners have already taken place, with four more to come in the next couple months. Here is some of the hardware our Drivers and office staff will be taking home:
Years of Service Awards
We want our Drivers to enjoy a long and prosperous career at Bison, and we're happy to reward them when they do. Drivers are initially recognized after five years with the company and will continue to be recognized in five-year increments.
Safe Driver Awards
Our Safe Driving Rewards Program is one of the best in the industry, but we don't stop there. Our Awards program goes the extra mile, providing Drivers with crystal awards, certificates, lapel pins and tractor decals at each safe driving level. Once our Drivers reach the one million mile mark, or eight years, we present them with a 10-karrot gold ring. And, for every additional 250,000 miles, or two years, of safe driving, we add a diamond to that gold ring.
Technician Safe Work Hours Awards & Safe Lift Operator Awards
In order for Bison to maintain its reputation as North America's Safest Fleet we need to continue to operate the safest equipment, and that wouldn't be possible without the hard work of our technicians and lift operators. Technicians begin receiving awards after 800 safe work hours while lift operators are recognized for every full year of safe operation.
S.T.A.R Awards
The S.T.A.R Award recognizes individuals that excel in the areas of service, teamwork, action and resourcefulness. Whether a member of our office staff, a driver or a technician, the S.T.A.R Award is open to any Bison employee who demonstrates a commitment to our organization's core values.
Driving Change Awards
The Driving Change Award recognizes an individual or team that has created a business concept that is unique, or that has applied innovative improvements to existing processes, products or services. There must be a degree of success associated with the utilization of the innovation; such as productivity improvements, retention, staff or Driver satisfaction or increased sales.
Helping Hands Awards
The Helping Hands Award is presented to individuals that demonstrate community spirit, social responsibility and selflessness through volunteerism at Bison and in the community. Our organization is full of incredibly generous people, and we want to make sure their generosity is recognized.
For more information, contact us at drive@bisontransport.com or fill out the contact form below!