The Manitoba Trucking Association (MTA) held its Annual Awards Gala earlier this month, recognizing the efforts and contributions of members of the trucking community who have distinguished themselves.
Among the award winners was Bison Transport's Garth Pitzel, who was inducted into the MTA Pioneer Club. The Pioneer Club recognizes members of the local trucking industry who have been continually employed in the industry for at least 25 years and are actively and directly engaged in the formulation, direction or execution of policy in a managerial capacity for an MTA member company.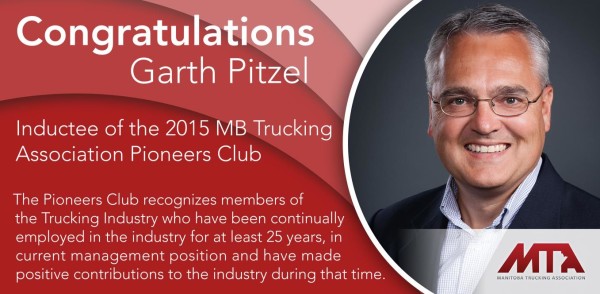 We sat down with Garth, who serves as Bison's Director of Safety and Driver Development, to learn more about his 34 years in the trucking industry. Here's what he had to say:
On what the award means to him:
It just proves I'm old. But I appreciate it because I'm passionate about our business, I'm passionate about the industry and it has provided a very good standard of living for my family.
This is an individual recognition, but to me it's about the team. I am fortunate to have a fabulous group of people around me that make me and Bison Transport look pretty good. And that's what it's all about. It's not only our safety staff, but it's the Drivers that make our business look pretty smart.
34 years in the business is, on one hand, a long time, but it's also not a very long time because it's flown by. I started loading and unloading semis in high school. So to be in the position I am with the ability to impact people, at Bison and in our industry, that's pretty good. The industry has been very supportive and has allowed me to grow as an individual and that is unique.
On the importance of the trucking industry:
It is a very important industry to keep the economy rolling, but a lot of people don't understand it. Unfortunately, it's that representation you see in a movie or in a show, that's their understanding of the trucking industry.
I think this industry is unique in that we compete for drivers and customers, but at the same time we're pretty open in sharing how we do things in all areas of our business.
On making safety a priority:
The ultimate goal is to make sure we protect our Drivers to make sure they can make it home safely to their families.
There's a lot of risk in every mile we run, but yet, we've taken a lot of the risk out because we've given our Drivers the best safety tool box in the industry:
We give them the best and safest equipment
We give them the best and safest training
We have the best safety initiative in our "Right To Decide" policy
That framework has allowed us to protect our people and we're fortunate that our Drivers have bought into the program. They are proud, probably prouder than I am when we announce that we win fleet safety awards.
On what separates Bison Transport:
I think it comes down to our core values. It's one thing to have them on the wall, it's another to have incorporated them into your daily decision-making process. That's what makes Bison Transport the best and safest trucking company in North America.
I'm a Driver guy and I will be until the day I die. I'll be the voice in our business supporting our Drivers. And again, that comes down to supporting the end user, our Drivers, regardless of the issue.
I always talk about the people. It's the 1,850 Drivers that we have doing the right thing on every mile that they drive. That's the people that need to be recognized.
On what has enabled him to be successful:
It comes down to doing the right thing. For the business, the people in the business and the industry.
When I was just a young punk, I was fortunate to have a few people who believed in me, so I had the opportunity to go from loading semis with no experience to working in an operations department. Several people took a chance on me and fortunately, they keep investing time in me. Even though I have lots of experience now, I still learn something every day.

On how the industry has changed over the course of his career:
The basics of trucking haven't changed, but how that gets done is a lot different. The use of technology to make our business better is endless. When I started, it was very basic, but we've been able to use technology to make our business way more efficient and productive.
To me, the biggest thing was this wild crazy idea of incorporating simulation in our training and making it an important part of our business. We were the first company in Canada and the second company in North America to incorporate full-motion simulation into our training program. When I started in the industry in 1982, I would have never believed that.
The equipment changes have been phenomenal too. When I started we had a 45-foot trailer that could be a maximum of eight feet wide and now we're hauling two 53-foot trailers with one tractor.
It's incredible what we've been able to do to allow our Drivers a better life on the road and at home. We've been able to put a driver program together that gets our Drivers home at least every 5-7 days. In the 80's, drivers being away for a month at a time? We haven't had that in our business in twenty years.
Congratulations on your success Garth. You've made a great impact on how the Canadian trucking industry views safety.
If you have worked with Garth over the past 34 years, please comment below.