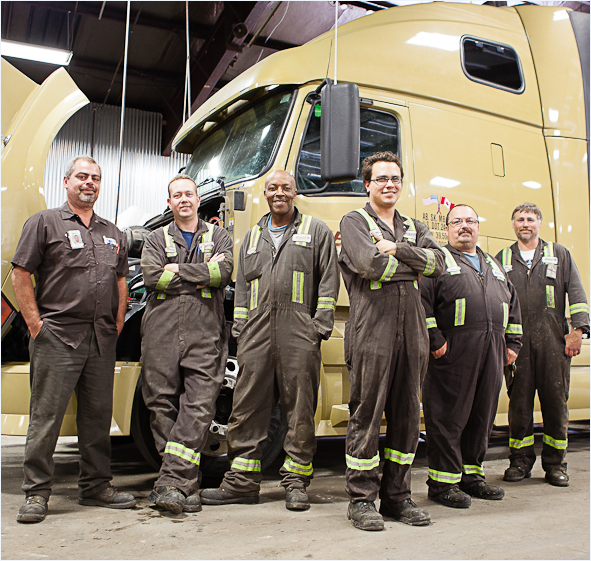 Major transformation has occurred in Maintenance over our 45 year history!
Bison has expanded from our first and only shop facility in Winnipeg and added fully functioning shops in Mississauga and Calgary. We have recently opened a shop in Langley with four Technicians, and we will be adding another four Technicians in the very near future. We strive to deliver "world class" maintenance services for our Drivers, and we continually look to improve our Driver satisfaction with all of the services we provide.
Partnerships with original equipment manufacturers (OEMs) enable Bison to perform warranty repair in our shop bays instead of at dealerships. Yesterday's image of a 'typical mechanic' has developed into today's tech savvy Maintenance Technician. In the past, troubleshooting a complaint was sometimes like looking for a needle in the haystack. Compare that to today's advanced engine diagnostics that are capable of sending a communication message of why the "truck is sick", via satellite, before the truck even reaches its destination! Developments in maintenance technology have reached beyond the 21st century and they're screaming forward at an un-limited pace!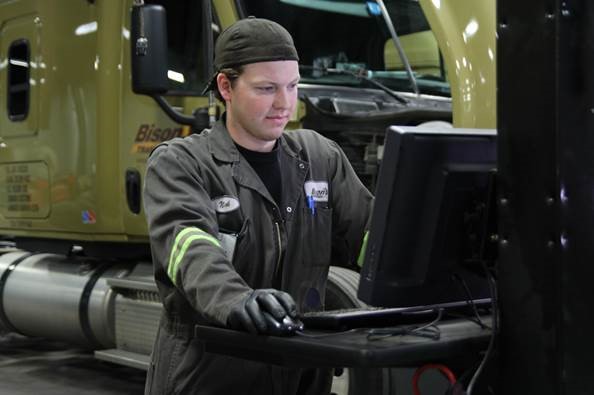 The technological advancement in our equipment has created the need for Bison to develop the next level of maintenance talent to better serve our organization.
We provide varying career opportunities ranging from front line apprentice students, wash bay attendants and parts department roles, Provincial Red-Seal Certified Technicians, and Master Technicians. Bison makes an investment in our team members to achieve certifications and advance their skill sets as they move from entry-level to advanced positions. We have many Technicians at Bison who are graduates from schools such as: Red River College, SAIT Polytechnic and Centennial College. These graduates enter our mentorship program pairing the new team members with experts in our business. They work side-by-side until candidates reach technical competence and confidence to progress on their own. Our goal in Fleet Maintenance is to provide a working environment for Technicians and team members to grow, develop aptitude and progress within Bison Maintenance to meet individual career objectives and changing business needs.
We have several examples from our almost 200 individuals in Maintenance that have advanced their careers including leadership positions within Maintenance and other areas of our business. We look to match skills, contribution, interpersonal communication and an individual's desire to grow. This helps in developing tomorrow's leaders.Speaking of tomorrow, advances in equipment innovation, development of alternative fuels and efficiency in assets has put an even greater need on us to prepare for advances in technology in our fleet.
Bison invests in advanced diagnostics, computers, training, safety, facilities and our people. With our core shops in Winnipeg, Mississauga, Calgary and now Langley, we have plans to expand our in-house maintenance services in Edmonton and Regina as well. We stress safety and safe work environment through individual engagement, equipment and facility investments and ongoing continuous improvements.
We need you to help us get the word out!
Quite simply, we need "Bison Ambassadors" to promote and share the potential career opportunities in your network. Bison's next heavy duty Technician could be your friend, relative, contact, a soon to be graduate or someone looking for a new career direction such as those transitioning from the military. Even if someone is working on your car, you could ask them "Have you ever considered a career in Maintenance with Bison?"