There are many reasons to start your career in the transportation industry ... What's yours?
The transportation industry offers careers with stable employment options and excellent earning potential. As with most professional careers, gaining the needed experience to break into the industry can be a challenge.
The skills needed to be successful are only gained through proper training and mentorship, something not all carrier structures can support.
Bison Transport understands the industry's need to increase the overall Professional Driver pool and values the required skills. To allow Bison to engage new-to-the-industry Drivers, we developed the Driver Finishing Program (DFP). This program enables Bison to on-board Drivers that have recently secured their Class 1 / AZ license and provide them with the required training to develop into Professional Drivers. This program requires a large financial investment from Bison, but offers great reward to Bison, the participant and the industry.
The DFP follows a training structure established to allow participants to develop the required skills to be a Professional Driver.
During the initial 13 weeks of training, DFP participants attend orientation and work through three phases of training with an In-cab Instructor (ICI). These phases include city, regional and long haul training. Regular reviews are held with the ICI, a member of our Driver Development team and program participant to maintain communication and training evaluations.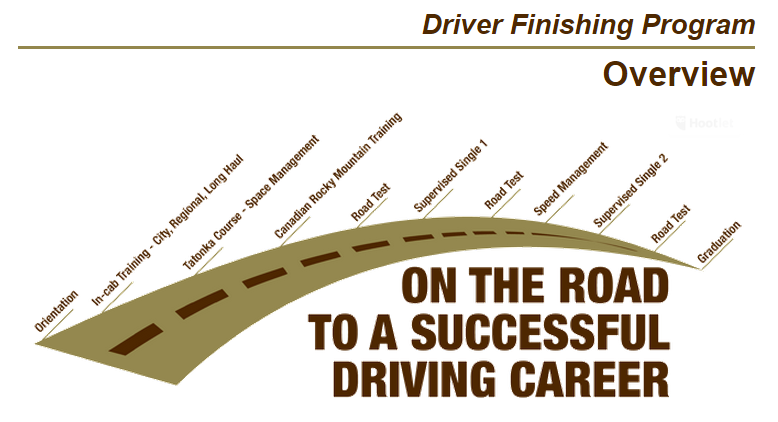 While working with the ICI, program participants receive one-on-one training and are required to do the majority of the driving and customer/dispatch communication. All training is completed as a single Driver, no team driving takes place during training. During training we ensure experience is gained on Hwy 17 and in the Rockies.
Once this initial phase is complete, a road test will be conducted to assess current skill level. Successful completion is required to move onto the next phase (Stage 1) of the program.
Stage 1 keeps participants within a 600 mile radius of their home terminal as they embark on trips independently. Successful completion of a skill assessment road test is required to move onto the next phase (Stage 2) of the program.
Stage 2 keeps participants within a 1000 mile radius of their home terminal allowing for additional lanes to be traveled. Successful completion of a skill assessment road test is required to move onto the next phase of the program which will remove all operating radius restrictions.
Bison is extremely proud of the quality of program offered in our DFP along with the participants we have seen successfully evolve into Professional Drivers. Bison remains committed to the industry and investing in its overall success.
Click here for further information on our Driver Finishing Program, contact us at 1.800.462.4766, or fill out the form below. Thanks for your interest in Bison Transport.