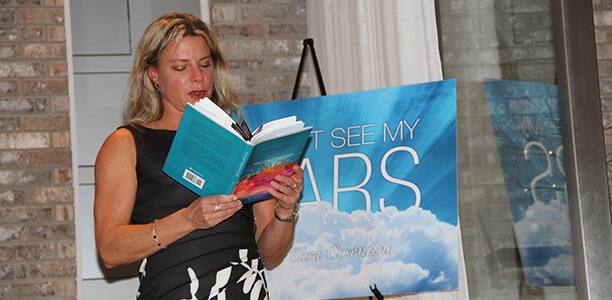 He was part of the Bison family for 20 years and Darren Cosentino's spirit lives on in a new book called You Can't See My Scars.
At Bison, Darren began in operations in 1996 and later joined the sales and marketing team. It was 2011 that he was diagnosed with stage 4 colon cancer.
Given just months to live, Darren created a bucket list and decided to live each day as if it were his last – because it very well could have been. But he kicked cancer's butt for five years and had an incredible story to tell.
At a book launch on Oct. 16, Sara, his high-school sweetheart and wife of 17 years, spoke of Darren's brave and hard-fought battle with cancer.
Reading passages from the book, Sara celebrated Darren's life with dozens of their friends and colleagues at Bison president Rob Penner's home. She spoke of the laughs and tears they had throughout their emotional journey together – a journey that included 46 rounds of chemotherapy, seven major surgeries and two sudden cardiac deaths.
The couple began working on the book two years ago with Darren being interviewed for 20 hours and telling the stories of his life.
"The book is to allow Darren's influence to impact those who didn't even get a chance to meet him," said Sara.
Penner added his thoughts about hosting the event and what Darren's contributions meant to Bison.
"Even as his time on Earth was coming to an end, Darren and Sara were selfless and wanted to help others," said Penner. "This book was one of the ways they intended to do that. To be able to play a small part in hosting this momentous achievement is a true honour for me. I am forever privileged to be a part of their circle."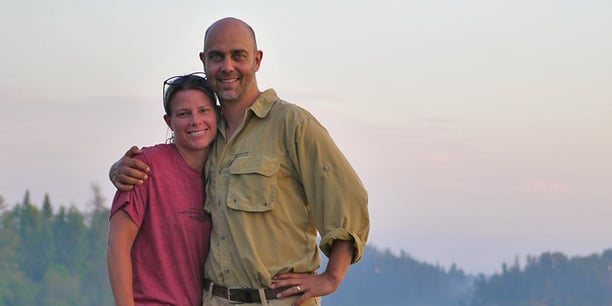 In attendance was former Manitoba premier Gary Filmon. Filmon wrote the foreword for You Can't See My Scars. Like most Manitobans, Filmon and his wife, Janice, have felt the effects of cancer in their family.
"Both Janice and Gary really welcomed me into their home," said Sara. "They shared their story and history with their interactions with cancer. That was just very special and very authentic."
Some of the staff from Grace Hospital Cancer Care Clinic who treated Darren was on hand to help launch the book.
"Darren brought positivity to our clinic," said Rhonda Nichol of the oncology clinic. "He was always very happy. Trust me, when you've been told you have terminal cancer, coming in happy is a very difficult thing to do. And I truly admire him for this."
Darren was more than just a patient, said Nichol. He became a friend – practically family.
"We all have very fond memories of him," said Nichol. "We were honoured to have him as a patient. He was one of those people you never look at as just a patient. He meant more than that to all of us."
And Darren certainly did to a lot of people. It was evident in the long line of loved ones waiting for Sara to sign copies of the book. With each signature, Sara hugged and enjoyed moments with those who were anxious to read the uplifting story of Darren's life.
"Darren was all that is great about Bison Transport," said Penner. "He came into our business knowing nothing about trucking but he made it his business not only to learn it but to excel at it. He did that by connecting himself and learning from people at every level of the organization, including our customers and even our competitors. He epitomized the culture we sought to instil at Bison."
Sara was genuinely touched by everyone's support noting, "This is a tremendous milestone. This is a very special and outstanding evening."
As for Darren's thoughts of the launch, Sara said his response would have been, "What? No dancing?"
You Can't See My Scars is available at McNally Robinson in Winnipeg, and on Amazon.ca and Indigo.ca. Proceeds from the book go to the CancerCare Manitoba Foundation Darren Cosentino Memorial Fund.
Related Posts:
1) Rising To The Challenge: Blazing Bisons Raise Over $170,000
2) CASE STUDY: The Anatomy of a Corporate Fundraising Campaign