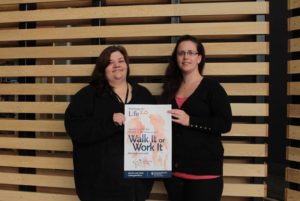 With CancerCare Manitoba's Challenge for Life event set to take place this weekend, the Blazing Bisons are in the final stages of a fundraising campaign that has spanned several months and put them at the top of the corporate standings!
Having raised over $100,000 already, the Blazing Bisons are the top corporate team participating in the Challenge for Life and that number includes only the individual fundraising efforts. Bison's Challenge for Life team members have put in countless hours raising money through a variety of initiatives, from baking cupcakes to making quilts.
Sarah-Jane, a claims administrator, is the team captain this year and ramped up her individual fundraising efforts by offering to shave her head if she reached her $5,000 goal. After a last minute donation put her over the top, Sarah-Jane held true to her word and shaved it all off in front of many of her coworkers. A couple other Bison team members followed suit, as Lindsay agreed to colour her hair after reaching her $1,000 goal and Chipalo spent his casual Friday in high-heels after raising over $500.
Sarah-Jane, who has a strong personal connection to cancer after losing her father to the disease, takes incredible pride in Bison's commitment to helping find a cure. Click here to read her full story.
"In six years, we have raised over a half a million dollars for the CancerCare Manitoba Foundation," she said. "Being the top team and raising serious funds for this cause is our way of supporting the people that are the heart of this organization, to show them Bison stands beside them not only in the workplace, but outside of work too."
On top of a great lunch and exciting live entertainment from Thousand Dollar Truck, who donated their time, the cookout featured a silent auction, 50/50 draw, line dancing, a photo booth and our signature Pie-Your-Manager event. Over 350 people were in attendance and the cookout raised over $10,000, with all proceeds benefiting the CancerCare Manitoba Foundation. To learn more about how Bison has been successful in orchestrating multiple corporate marketing campaigns, check out our case study.
While the entire team at Bison put forth a great effort, the event was the product of several organizations working together. Thanks to each of our incredible partners who attended the event and contributed to the cause, including FreightLiner Manitoba, Volvo, Fountain Tire, Kaltire, Michelin, Big Rig Collision, Thermo King and Champion Towing. Thanks also to National Meat Sales, Harvest Bakery, Kendall's Catering, Mrs. C's Deli and Bel-Ayre Rentals for making the great meal possible.
If you're still interested in getting involved, you can visit the Blazing Bisons team page and donate online.
With Spirit and Service as two of our organization's Core Values, we are focused on making a difference in our community and take pride in the support we offer to many charitable organizations. Whether you're a Bison team member or not, we encourage you to find a cause that you're passionate about and get involved!