Recently, we received a call from an experienced Canada/U.S. driver who asked about our Grass is Greener campaign. He works for a good company and has good pay but the campaign piqued his interest and he wanted to see what Bison could offer him.
After a few minutes of conversation we learned even though he gets his 3,000 miles for the week, he then has to sit for five days based on the company's network structure.
It had me wonder: what factors other than pay rate affect a driver's job satisfaction? Basically, what else do professional drivers care about and why would they switch from one company to another?
I posed that question to our Driver Advisory Board (DAB) that same week. The DAB is a group of Bison's Drivers who meet with our leadership team to discuss operations, current trends, equipment standards and technology. And, in discussing this topic with them, here are the findings:
Proof of Delivery (POD) required for pay. If a driver is arriving in Vancouver near the end of their pay cycle, many drivers worry about not getting their PODs in on time since that will delay their pay until the next pay period.
Most modern trucking fleets, like Bison, can tell that a load is completed through ELDs, GPS tracking, and other technologies. So, PODs still need to be turned in but they are not a reason to delay a Driver's pay. If the work is done, they get paid. Period.
Weekly pay: One topic that came up frequently with the DAB was pay frequency. A lot of companies pay biweekly or even monthly. Our professional Drivers really appreciate being paid every week.
Safe driving bonuses: Most companies have some form of safety bonus program. The DAB commented that many companies have a lot of conditions on the safety bonus that make it easy for a driver to lose their bonus. For example, if a driver has an infraction, or they didn't work enough days that month, or if paper work is late, that could jeopardize their bonus. If you drive for the quarter without any preventable accidents you get your bonus. It's that simple.
Our Safe Driving Rewards Program (SDRP) starts at $0.01/mile and increases half a cent every 250,000 consecutive safe driving miles up to a maximum of 5.5 cents/mile. So, if a Driver does 11,500 miles per month for a year they would earn almost $8,000 in SDRP pay for the year!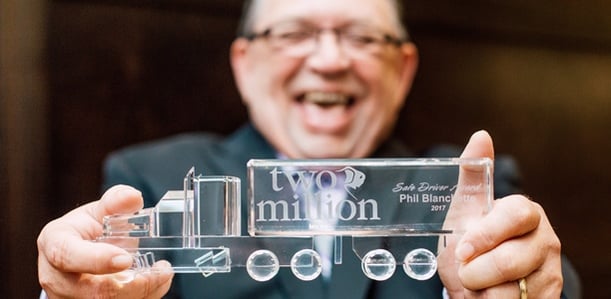 Resets on the road: One thing we often hear drivers from other companies is how often they have resets on the road. We won't say it never happens, resets on the road with Bison are extremely uncommon unless the Driver asked for it. To show how rare it is, we have around 1,700 Drivers and have only had around 10 unplanned resets on the road over the past year. When it does happen we put switch Drivers in place and have even flown Drivers home when needed.
Miles driven: The biggest factor that impacts a driver's compensation is their ability to get the miles they need from their carrier. Our goal for every assigned truck is 12,000 miles per month, though many legally exceed 13,000 miles per month. We do have some part-time Drivers who work only one day per month and many full-time Drivers that work 24. Either way, when you want to work you don't want to be sitting.
So to answer the above question, "Is the grass REALLY greener at Bison?" we say "YES!"