It's a feat like nobody has ever achieved at Bison Transport. Roger Maltman has accumulated 3.25 million safe driving miles. Maltman sat down for a chat with our corporate marketing team hours before he received the honour in November at the company's Annual Dinner & Awards celebration in Winnipeg.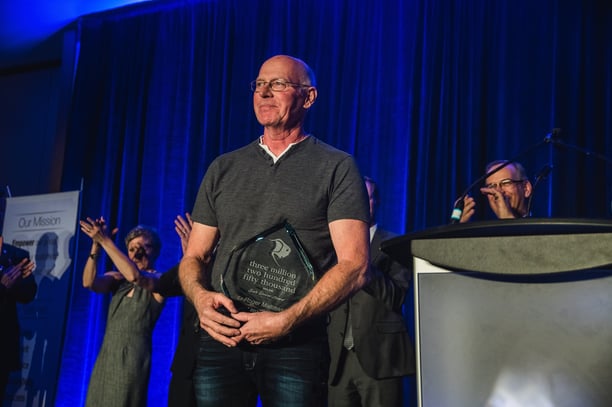 "I have been with Bison since 1994. No, I didn't have hair then either," joked 58-year-old Maltman. But trucking has a long history in his family.
When he was 14 years old, Maltman worked for a family company alongside his sister and brother-in-law. Maltman said he grew up around trucking and transportation. He later made the leap to construction work but when the industry slowed he returned to the trucking sector.
As a long-combination vehicle company Driver at Bison, Maltman said, "I judge my success one week at a time. I work at it one mile at a time."
He takes safety very seriously. Of his time behind the wheel, Maltman had some words of wisdom and advice for drivers on the road.
"Pay attention to what you're doing," said Maltman. "Focus on the moment. Plan ahead. Check weather. Get into a routine."
Maltman said he takes his routine one step further. He notes the steps he takes in preparation for a drive and said he goes through his routine. If he is interrupted or loses his place, Maltman starts all over again to ensure nothing is missed.
"It's not worth taking a chance," said Maltman. "You have to be careful. There's no room for shortcuts."
That sense of safety and security was instilled in Maltman by Bison's extensive training and commitment to safety.
"Bison's training and safety program – Garth Pitzel and the team – are the reason we can do this," said Maltman. "We're a team. I don't do this by myself. I haven't swapped paint with anybody or haven't ticked off anybody too badly."
So does he have another million miles in his future? Maltman seems optimistic.
"I love doing this job. I've always had a lot of respect for the drivers."