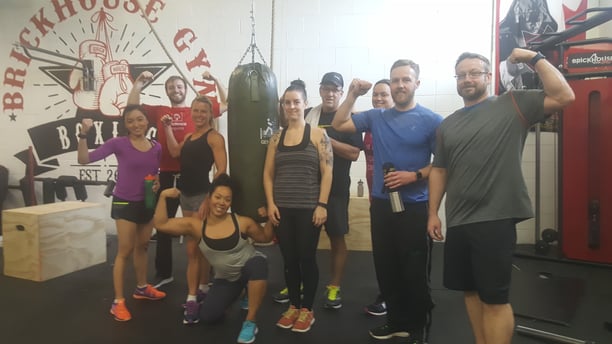 Bison launched 4DX in 2014 as a way of allowing our organization to come together and agree on gaps we see in our business, and then work together to close these gaps.
4DX, or Four Disciplines of Execution, is a proven business system that helps companies achieve their top goals. These disciplines are based on four principles common to execution success:
Focus

Engagement

Leverage

Accountability
4DX teams meet weekly for half an hour to discuss our individual goals, which ultimately contribute to the team goal, and the larger company goal.
At Bison, we have taken 4DX principles beyond our business practices and have incorporated them into our daily health and wellness, too. We have created "Healthy 4DX" teams, helping Bison employees stay focused, engaged, and accountable to their health and fitness goals. The Healthy 4DX groups are each led by a different coach, depending on an individual's set goals. The groups meet weekly for 15 minutes, and commit to a healthy goal for the week. Personally, I look forward to these meetings and I think most of us on a Healthy 4DX team feel the same. It's a great way to put yourself first, and learn about some of our colleagues on another level.
On top of joining a Healthy 4DX group, Bison Transport also has a Wellness Committee who's mission is to promote and facilitate healthy and active living within the Bison Transport community, by developing programs, providing information, and making it fun and easy for everyone to get involved.
While we have plenty of avenues for health and wellness in the Bison terminals, including a gym, and monthly wellness initiatives, some of our staff has taken their Healthy 4DX goals outside our workplace, too. Earlier this month, the Healthy 4DX "Survivor" team committed to participating in a grueling Saturday morning CrossFit session at BrickHouse Gym.
JT Smith, the owner and trained CrossFit instructor of Brickhouse gym, put Bison Employees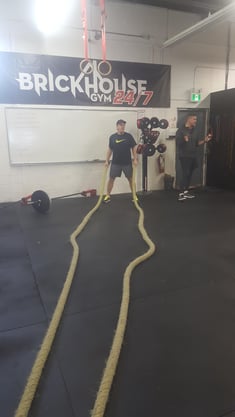 (including myself) through the fundamentals of CrossFit. No one in our group had previously done this type of training, so we weren't sure what to expect. What we found out after our session was that we would get our butt kicked.
In my experience, often times, I'll start a workout feeling miserable. Over time, I (and most of us, I think) learn to love the pain of working out. Working out is empowering: when you find a workout program that works for you, you'll learn that you can do so much more than you thought possible. You'll discover that what you thought was your limit was just the starting line. You'll become faster, stronger, smarter, feel better, and look better. You'll have a miserable workout and want to never go back, then in a subsequent workout do something seemingly magical! With a return like that, why not give it a chance? So, we decided to give CrossFit a try, and we prevailed the high intensity circuit training!
The many health benefits of physical activity are obvious, but did you know that there is a connection between physical activity and productivity – an obvious benefit when you work in a fast-paced work environment like we do.
Health Canada states that employees' work performance can be improved by 4-15% through participation in regular physical activity. A healthy lifestyle and diet can help reduce chronic diseases like diabetes, stroke and heart disease as well as many other illnesses.
According to the Canadian Fitness and Lifestyle Research Institute's Physical Activity Monitor:

91% of Canadians believe regular physical activity helps them to cope with and reduce stress.
89% believe exercise helps employees be more productive.
88% believe exercise helps employees recover from minor illnesses quickly.
85% believe physical activity helps them be more effective on the job.
Physically active employees take 27% fewer days of sick leave and overall absenteeism can be reduced by up to 20% with a physical activity program.
What do you do to make physical wellness a part of your routine, and how does it help you in the workplace? Let us know in the comments below.