We've updated this post from a previous version to reflect our 2017 Business Discussion Series.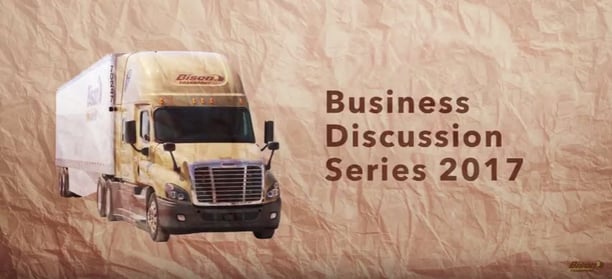 American business magnate John D. Rockefeller once proclaimed, "Don't be afraid to give up the good to go for the great." To truly embrace this maxim, change must be led by everyone in an organization, not just senior leaders. Change must be driven from all levels with a focus on delivering exceptional results to your customer; it's true, after all, that satisfied customers drive our success.
At Bison Transport, we believe our people are best positioned to take on the challenges of our industry and drive change when they are equipped with knowledge. That's why we host the Business Discussion Series (BDS) each January: to empower our people with the knowledge they need to make our company great. Through these sessions, our people have the opportunity to ask our senior leaders questions that matter to them and get clear, immediate responses.
The BDS is an upbeat and passionate session that plainly states the realities of our business and industry. We cover the health and growth plans of Bison, the economy and our plans for the year ahead. Each year, we kick-off the BDS sessions with a video designed to recognize our people's successes.
This year, our 2017 video highlights our SAFETY, SERVICE, SUSTAINABILITY, SUCCESS and SPIRIT achievements accomplished in 2016. We used a "Did You Know?" format that answered that question in a fun way. The video mentions everything from fleet growth, numbers of loads and miles to Driver earnings, milestones, and achievements in 2016.
You can also view our 2016, 2015, 2014, and 2013 videos by clicking the images below.
Business Discussion Series Video 2016
Business Discussion Series Video 2015
Business Discussion Series Video 2014
Business Discussion Series Video 2013
Like all great organizations, we took our challenges head on and seized our opportunities with vigor in 2016. This culminated in a profitable year, and we entered the new year with a lot of positive momentum. We will continue to build on that momentum and put our people in a position to succeed and drive change in our organization.
Knowing our people have the knowledge they need to aggressively pursue success and build a great company makes us confident they we will experience a prosperous 2017.
What are some of the exciting ideas you use to communicate to your team and how are you implementing them? Please comment below.