Here at Bison, empowering our people is listed first in our mission statement. Informally, we celebrate the achievements of our people each and every day, but we take one night a year to formally recognize the accomplishments of our Drivers and staff with our Annual Dinner & Awards Celebrations, which take place in each of our terminals across Canada. These awards are meant to celebrate our Drivers' and Technicians' hard work and commitment to safety, and to recognize our dedicated office staff that work tirelessly to support our Drivers and push our organization forward.

This year's Awards Celebrations, which took place in November and January, had more than 1,500 people in attendance. Together, we took the opportunity to connect, have fun, and celebrate notable accomplishments of our people. We kicked off the night with a great video featuring our two Drivers with the highest safe miles!


We even went live on social media with a #bisonawards2016 hashtag, and a customized Snapchatfilter. This was new for many in attendance, but it was fun to have photos from all of the events live on the screen throughout the night!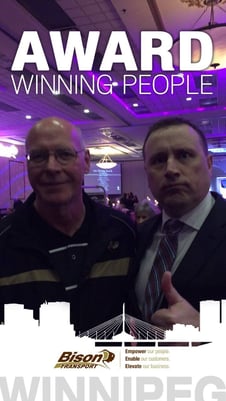 Bison's leadership in safety is a team approach, achieved with an unparalleled contribution by each of our staff members and Drivers. Thank you to everyone at Bison who approaches each mile, each repair, and every activity with a heartfelt concern for safety and a commitment to our business.
Our Drivers and office staff took home several awards, including:
Years of Service Awards
We want our Drivers and staff to enjoy a long and successful career at Bison, and we are happy to reward them when they do. Our Drivers, Technicians, and office staff are recognized after five years with our company, and are recognized in five-year increments after that.
Safe Driver Awards
Our Safe Driver Awards provide Drivers crystal awards, certificates, lapel pins, and tractor decals when they reach each safe driving level. Once our Drivers reach one million miles, or eight years, we present them with a 10-karrot gold ring. For every additional 250,000 miles or two years of safe driving we add a diamond to the ring.
This year, 772 of our professional Drivers received safety awards! Our first 3 Million Miler, Roger Maltman, brought everyone in the room to their feet in a standing ovation in recognition of his accomplishment.
We highlighted several of our Drivers' commitments to safety with a video showcasing why they think Bison is the best in the business.
Technician Safe Work Hours Awards & Safe Lift Operator Awards
In order for us to maintain our reputation as North America's Safest Fleet, we need to operate the safest equipment, and that wouldn't be possible without the hard work of our Technicians and lift operators. Technicians begin receiving awards after 800 safe work hours, while lift operators are recognized for every full year of safe operation.
Pursuit of Excellence Awards
2016 saw a rebrand of our Corporate Awards – in line with Bison's mission and core values; we decided to call them the Pursuit of Excellence Awards. These awards are nominated by our staff and Drivers to recognize the great work we see at Bison. We had great winners in the categories of Driving Change, Helping Hands, and the newly dedicated Darren Cosentino STAR Award. Darren began his work at Bison in 1995, and epitomized the effort, energy, and spirit we are continually trying to cultivate at Bison. Sadly, Darren passed away in May of 2016, however, his example will live on as we name recipients of the Darren Cosentino Star Award, AKA, a 'Cosy'.
We capped off the night with the always-fun Blooper reel! We hope you enjoy it as much as we did!
Thank you again to all who attended this year's awards, and congratulations once again to all of our winners. We hope everyone in attendance had a great time, and we look forward to an even more successful and safer 2017.