You've met Roger, a professional Company Driver with Bison, a few times already. Earlier this month, Roger was invited to attend Canada's 10 Most Admired Corporate Cultures Conference and Awards Gala to represent Bison alongside a few other company ambassadors. He shared his experience with us, and we thought we'd share it with you, too. Enjoy!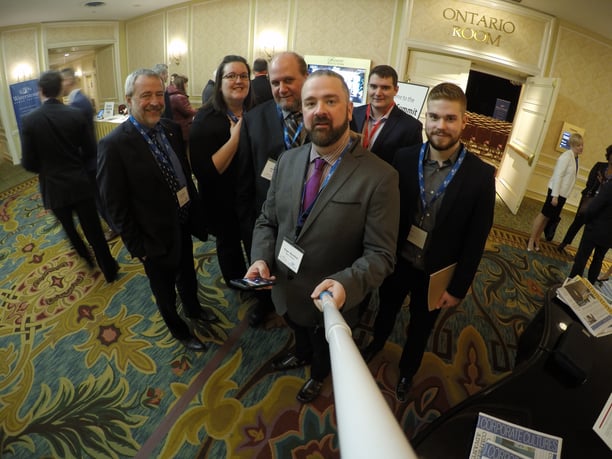 It's a brisk early March morning in downtown Toronto. I've just stepped off the subway at Union Station. I do this trip often, but this time, I left my truck behind and flew in on the redeye from Calgary. Across the street I'm checking into the historic Fairmont Royal York Hotel. No, I'm not going to see the Blue Jays, they're still in Dunedin playing spring training games. I'm not here to see the upstart, young Maple Leafs squad either. I'm attending the Canada's 10 Most Admired Corporate Culture Conference and Awards Gala.
Earning a seat at the table
In January, I was awarded one of the Bison Driving Change Pursuit of Excellence awards at our Annual Dinner and Awards Celebration in Calgary. I was recognized for my involvement with social media and my continued efforts to promote our culture and help advance our business forward. Myself, and other awards winners were invited to the event in Toronto to sit at the Bison table with our esteemed Executive Chairman Don Streuber, as Bison was to be awarded our second Canada's 10 Most Admired Corporate Culture awards in the enterprise category.
In the afternoon, there was a CEO only summit, as well as a Talent, Culture and Performance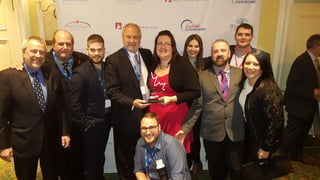 summit. I met with the other Bison attendees and we took our seats and listened to a keynote panel discussion about cultivating talent, recruiting, and leadership development. I found it all very interesting. They talked about new methods of attracting the "millennials" to the workforce, and redefining the corporate ladder, implementing lateral moves, and 'tours of duty' as opposed to traditional, sometimes stagnant promotion based careers. Westjet's Executive Vice-President, People and Culture, Mark Porter spoke about really pushing the role of recruiters as your "culture ambassadors", and he also stressed the importance of developing your frontline leaders who influence the most people.
In my experiences at Bison, I've noticed that we're already doing a lot of the things that were being talking about. We often hear the phrase "it's about our people", and at Bison it's true. We have a robust culture full of energetic, passionate leaders. I think this is what sets us apart from other for-hire transportation companies.
Following the keynote discussion, we broke off into several case study groups where we closely examined specific companies and how they made strides to change, or improve their corporate culture. There was a presentation, followed by a brainstorming session and ending with a Q&A. All of these discussions gave me a good insight on the importance of cultivating a healthy corporate culture, and also the reaffirmation that Bison is ahead of the curve. All of our efforts to promote OUR culture will help to grow and propel our business into the future.
Celebrating our success

Concluding the afternoon sessions, we had a break to wind down and get ready for the awards banquet. We reconvened in the reception area for cocktails and h'orderves. Our tightly knit Bison crew, highlighted by veteran, awar-winning Driver, Jack Fielding, posed for selfies and shared a few laughs. Then we were seated together at our table in the ballroom. The Gala was hosted by award-winning comedian, Steve Patterson, host of CBC's The Debaters, and HGTV Canada's I Wrecked my House. We all thought he did a fantastic job – he was hilarious. Soon afterwards, a wonderful dinner was served and the awards presentations began. The Bison crew cheered loudly when our video highlighting our corporate culture was shown on the large screens. Then we really erupted when Don Streuber took to the stage to accept Bison Transport's second Canada's Most Admired Corporate Culture award in the enterprise category! We're all so proud of this prestigious achievement. A highlight of the night was definitely one of our Cornerstone Clients, Maple Leaf Foods, winning the Hall of Fame award for picking up their 4th Canada's Most Admired award. I think it's definitely something for Bison to strive for in the future. "Two down, two to go!"

Check out the video that Bison put together for the event:



Following the event, the Bison crew strolled down to the piano bar for a nightcap and to reflect on a wonderful evening full of recognition, networking and cohesiveness. It was a trip I'll remember for a lifetime. As I travelled from Toronto to Calgary the following day, I was feeling reassured that yes, I'm on the right path. New ideas are swirling around in my head relating to how I can continue to promote and cultivate the Bison spirit. I look forward to helping enlarge our social media network, and encourage more of our Drivers to become leaders and culture ambassadors, so that next year and the following years after that, we'll continue to be recognized as one of Canada's Most Admired Corporate Cultures.



Tell Us What You Think: What factors make a corporate culture 'admired'?



Click below to read Bison's Guide of 10 Factors to Consider When Choosing a Carrier to Drive For.