UPDATED: Jan. 22, 9 a.m. CT with details from Langley and Edmonton events
UPDATED: Jan. 15, 11:30 a.m. CT with details from Calgary and Regina events
Safety was celebrated in style at Bison Transport's Annual Dinner & Awards in Winnipeg and Mississauga on Nov. 24 and 25 respectively.
In Winnipeg, over 640 guests – and two trucks: a Volvo and a Freightliner – filled the banquet room at the Victoria Inn & Convention Centre, a short drive from Bison's corporate office. To the east, nearly 300 people gathered at the Mississauga Convention Centre for Bison's annual festivities on Saturday.
At both events a record number of award recipients were recognized in a variety of areas including Years of Service awards, Technician Safety awards, Safe Lift Operator awards and Safe Driver awards. In total, 439 people in Winnipeg were honoured in these categories, while 203 were recognized in Mississauga.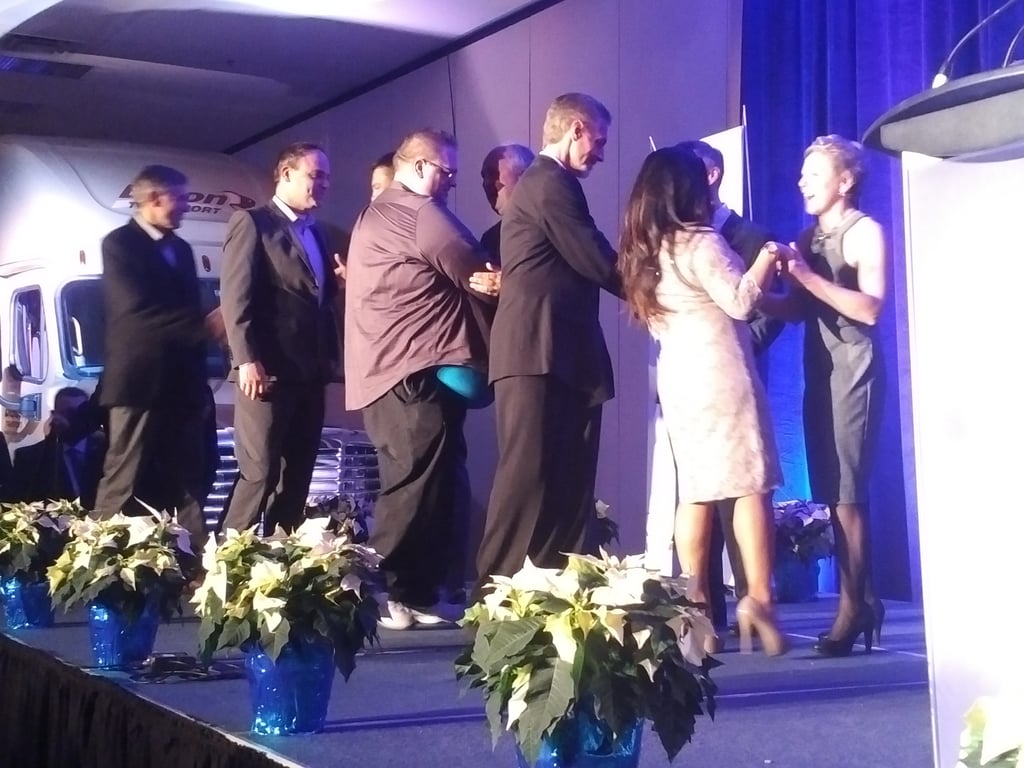 Reaching the incredible milestone of 3.25 million safe driving miles was Roger Maltman, 58, a company LCV driver at the Winnipeg terminal. He has been with Bison since 1994.
"We're a team, I don't do this by myself." said Maltman of his accomplishment. "Bison's training and safety program – Garth and the team – are the reason we can do this. I judge my success one week at a time. I haven't swapped paint with anybody or haven't ticked off anybody too badly. I love doing this job. I've always had a lot of respect for the drivers."
Maltman shared his key to success: "Pay attention to what you're doing. Focus on the moment. Plan ahead. Check weather. Get into a routine."
It has been an incredibly successful year for the company with many admirable achievements across the country.
There are times when our employees go above and beyond the call of duty and are awarded Bison's Highway Angel honour.
Mississauga-based driver Darrin Gillmore rescued a man involved in a head-on crash in October. It happened in the early morning of Oct. 10 near Tilbury, Ont. Gillmore was on the road when he spotted a pickup truck on fire and sprung into action. He extinguished the fire, though it later flared up again, and joined another man in removing the victim from the burning vehicle.
Gillmore received a Board Citation from the Chatham-Kent Police Service in November. Chief Gary Conn said at the time, "Without a doubt, the actions of Mr. Gillmore prevented further injury or death."
Norm Sneyd, Bison's vice-president of business development, added, "It takes a special person to do what Darrin did. We're very proud of him."
In his President's Message, Rob Penner acknowledged the hard work and dedication of Bison's staff.
"This is a celebration," said Penner. "We are, without question, the very best team in trucking and we can look to our culture as the one thing that truly sets us apart. A unified culture takes two ingredients: people caring about our business and people caring about one another. We all play a part; how we play is vital to achieving a sustainable and profitable future."
This year, 34 recipients across the country were awarded the John Martin Memorial Scholarship to pursue their career in the transportation industry.
There was some serious competition during the Bison's Got Talent contests during each of the galas. In Winnipeg, Carl Gauthier took the top prize with his rendition of Johnny Cash's Folsom Prison Blues.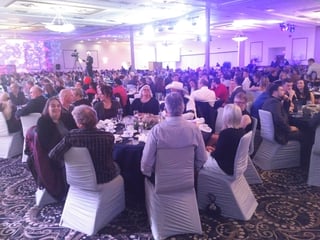 During the Mississauga competition, it was a close race but in the end, Ajay Mann and his dancing partner Amrit took the crown.
The annual video montage of Bison bloopers had the crowds at each party laughing at the blips and blunders from the company's productions. Hands covered foreheads as everyone reflected on their moments to shine – possibly hoping they don't make the reel next year!
With candy stations and photo booths on hand, along with a packed dance floor, it was a great night to celebrate Bison's people and successes of 2017.
CALGARY
On Jan. 12, Bison continued the cross-country celebrations in Calgary. Over 300 people packed the Deerfoot Inn & Casino to recognize everyone who has achieved great success in trucking.
In-cab Instructor and Company Driver, Rob Wells celebrated a milestone when he received his award for 2.5 million safe driving miles. Wells has been with Bison since 2015 and got what seemed to be endless applause from his colleagues and loved ones in attendance.
Also recognized for his dedication was Tractor Technician, Ryan Phillips who was on hand to accept his award for 16,500 safe hours. Phillips started with Bison in 2007.

There was a lot of love in the room but when the competition was on, the competition was on! Bison's Got Talent was another highlight of the night. (And it was friendly competition – we think.)
Spencer Pries and Kenny Clow mixed things up with a remix of the Dr. Seuss classic, Green Eggs and Ham. Also, Jamie Scott performed Will Hoge's Even If It Breaks Your Heart, noting he had never sung it publicly before.
Even Bison President and CEO, Rob Penner got in on the act when he was brought on stage by Tyler Harper. Penner donned a shower cap and towel for a rousing rendition of the Rubber Duckie song. Company Driver, Clay Stanwick sung Three Wooden Crosses and dedicated the performance to the Rob Nash Band.
They battled it out but the winner, determined by audience applause, was Harper.
REGINA
Heading east, the fun continued in Regina on Jan. 13. Bison welcomed over 60 guests for the celebration at Hotel Saskatchewan.
Company Driver, Murray Coleman was recognized for his 14 years of service with Bison. His colleagues were all handshakes and hugs as Coleman received the honour.
Both nights concluded with our now-famous candy bar and photo booth, and a packed dance floor as we recognize the efforts and dedication of our Bison family.
LANGLEY
The Cascades Casino Resort was the location for Langley's festivities. Bison welcomed 114 guests to the Annual Dinner and Awards Celebration on Jan. 19. Sandy Burt and his co-host "Google Home" were the MCs for the night and kept the night rolling. As expected, the Bison family loved the spotlight of the photobooth to show their love and silly side for some memorable shots.
EDMONTON
As awards season in Hollywood continues on (forever, it seems), Bison concluded its annual celebrations in Edmonton at the Clarion Hotel & Conference Centre. We had 128 people in attendance and it was a great night to honour the people who help make Bison the industry leader that it is. Jason Potvin was the MC who welcomed the crowd and share our excitement for our team's accomplishments over the past year.