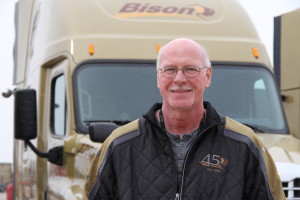 Bison Transport is excited to announce that Roger Maltman of Winnipeg has become its first driver to complete three million consecutive accident-free miles.
Roger has been a company driver at Bison since September 1994 and has explored many different lanes throughout his 21-year career with us. He reached the milestone on his way to Calgary on Tuesday.
"Ultimately it's me behind the wheel, but there are a large group of people doing their jobs with expertise, which enables me to do mine at a high performance level," Roger said. "We have the best equipment there is and a great operations staff."
Roger has run 1.8 million of his safe miles as part of Bison's long combination vehicle (LCV) network, hauling two 53-foot trailers simultaneously with a single tractor. Long combination vehicles are cost-effective, induce less stress on the highway system and are environmentally superior in terms of fuel consumption and Greenhouse gas emissions.