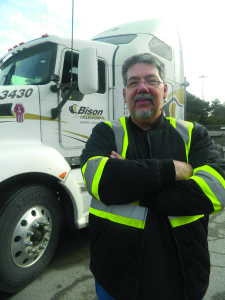 (By James Menzies. Originally published by Truck News on November 20, 2014. Re-published with permission)
That George Sutherland even bothered to show up for work on the second day of his new career, given the disastrous nature of his first day on the job, is a surprise. That was 20 years ago. He's been showing up every day since then and piling up the safety awards and accolades along the way.
He has a new one to his name. Sutherland has been named the 2014 Truck News Owner/Operator of the Year, for his industry advocacy, safe driving, willingness to help others and his business acumen. Sutherland had an interest in big trucks since childhood and decided in 1994 to obtain his A/Z licence. He went to a driving school and after about 40 hours behind the wheel, passed his driving test and was ready to embark on his new career. He applied for a job and the owner handed Sutherland the keys to a tractor hooked to a tridem trailer.