As a 'military friendly employer' Bison was honored to support the PPCLI (Princess Patricia's Canadian Light Infantry) Memorial Baton Relay this past summer. PPCLI celebrated their 100th Anniversary with the relay which started on August 8th in Edmonton, AB and concluded on September 21st in Ottawa, ON.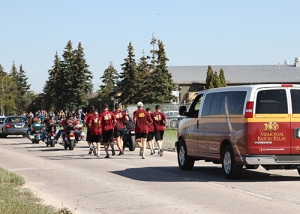 Bison transported a specialty wrapped PPCLI 53' trailer across Canada during the six week relay. Now that the Memorial Baton Relay is completed please watch for the PPCLI trailer on a road near you! The trailer will act as a reminder of the great strides and sacr
ifices that the PPCLI has made on behalf of Canada for the past century.
To learn more about career opportunities for military personnel looking to transition to civilian life, please visit: bisondriving.com/military