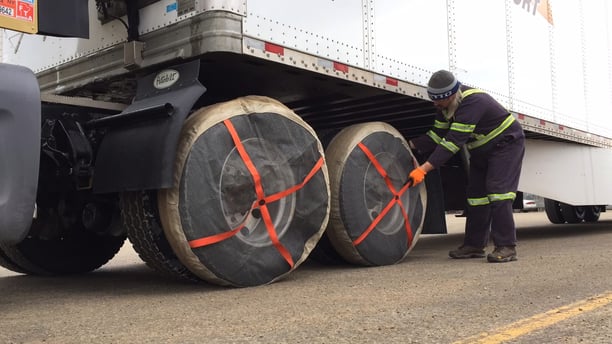 At Bison Transport, our Drivers are testing out the latest in technologies to help make their jobs easier. If you are a regular visitor to the Bison Transporter, then it's likely you've already met me! I'm Roger, a Company Driver and member of Bison's Driver's Advisory Board. I've recently been testing the AutoSock, a traction control device alternative to replace tire chains.
I do a lot of driving through Kootenay Pass, Rogers Pass, and other mountainous areas of British Columbia that have challenging conditions and heavy, wet snow. The greatest advantage of the AutoSock is that they're easy to put on, especially when you're pulling into a chain-up area on the side of a dangerous highway.
The AutoSocks take less than 10 minutes to put onto your tires, compared to the 30 to 45 minutes it might take to put chains on. If we can reduce the amount of time that a Driver is outside of the vehicle installing the traction control device, then we are helping to increase the Driver's safety.
In addition to the simplicity and safety, the AutoSocks are extremely lightweight as they are made of fabric, unlike heavy chains. They are easily stored underneath the bunk in your truck, and help to reduce weight on the tractor. They're also available for super single tires.
Throughout my travels, I put together a short video demonstrating how easy it is to put on the AutoSocks.

Some of the biggest pros:
• Easy to put on
• Lightweight (less weight means improved fuel mileage, increased ability to haul heavier loads)
• Easy to store as they take up little space
• A legal alternative to chains in Canada and the USA
• Can be washed in a regular clothes washing machine
But there are a few cons, too:
• The fabric is easily chewed up on bare pavement
• Costly if they need to be replaced
• Newer product so not a lot is known about them
I'll continue to test the AutoSocks to see how they fare in the longer-term and keep you posted with an updated review.
Have you used AutoSocks in your travels? Let us know how they work for you in the comments below.