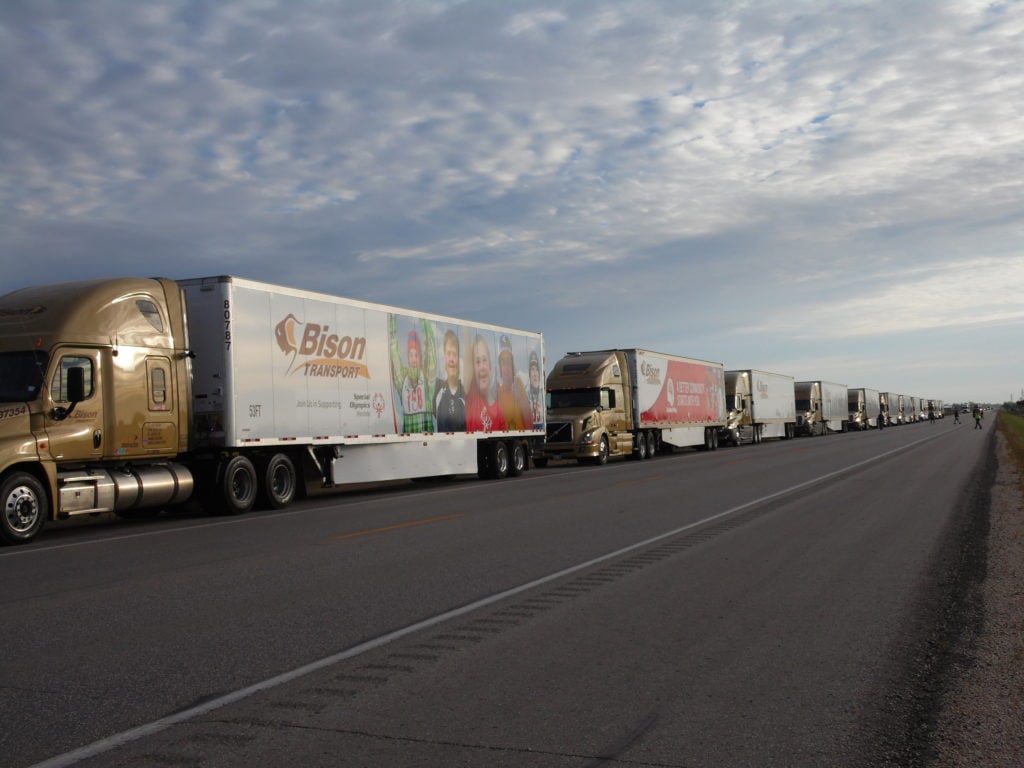 Bison Transport Trucks at the 2015 World's Largest Truck Convoy
At Bison, we show our support and spirit for many different causes. Our participation in the World's Largest Truck Convoy is a perfect example. For more than five years, Bison has participated in the Truck Convoy, and each year we partake, the number of Bison trucks involved grows. This year, there will be 30 Bison trucks in the Manitoba convoy!
The Truck Convoy brings carriers across North America together in various locations to raise funds and awareness for Special Olympics. The Manitoba Truck Convoy comes close to meeting or breaking the North American record for number of trucks in the convoy each year. Last year, more than 200 trucks from participated and this year's convoy is set to surpass that record.
"It's a good chance for Bison to show our force and strength," said Bison Driving Instructor Rob Rudyk, who helps to organize Bison's participation in the convoy. "The number of trucks we contribute makes a significant impact at the convoy every year."
"All of our Drivers are volunteers, and Bison is generous to contribute all of the equipment for us to participate in the convoy, plus donates $100 per tractor/trailer," Rob said. "It's a chance for us to showcase our family-oriented spirit and raise funds for Special Olympics. Every year, convoy spectators are taken aback by the number of Bison trucks. You hear a lot of 'look here comes Bison'."
Leading up to the convoy, Bison Transport held a barbecue in Winnipeg and in Brandon to help rally support and fundraise for Special Olympics while encouraging everyone at Bison to come out and watch the convoy.
For Bison Driver Murray Manuliak, who organizes the barbecue in Brandon, the Truck Convoy has a personal connection; two of his grandchildren participate in Special Olympics Manitoba. It was out of this that Murray started participating in the Truck Convoy, and why he and his wife got involved on the fundraising side.
"Both my grandsons have disabilities, and being a part of Special Olympics helps with their learning, sportsmanship, and their coordination. Special Olympics really truly creates a better life for all of the participants."
"Actually participating in the convoy is overwhelming. Seeing all of the trucks there for the same cause is pretty impressive," Murray said.
You can watch the Winnipeg Truck Convoy on Saturday, September 10. The convoy kicks off at 11am at the Oak Bluff Recreation Centre and the route is a full loop of the Perimeter Highway. Click here for more information.
Bison also has trucks and trailers participating in the Toronto convoy on September 10 and the Calgary convoy on September 17.