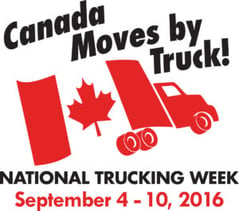 When I was asked to write an article for National Trucking Week (NTW) 2016, I decided to poll various people in and around Bison Transport to tell me what NTW meant to them. It was interesting to see how individuals across all regions perceive NTW. Bison's Drivers were mentioned for their achievements over the years, as well as peoples' family members and friends in the industry and their contributions to transportation. During NTW, Bison Transport would like to take the time to appreciate, recognize and celebrate all of the hard work professional truck Drivers do day-in and day-out.With over 400,000 Canadian men and women who keep the country's freight moving in one way or another, it's important to take the time to reflect on and acknowledge Drivers.
Without Drivers, our mission to Empower our people, Enable our customers and Elevate our business would not be possible. The commitment they have made to Safety is why we are North America's Safest Fleet year after year. Our Drivers' dedication to Spirit and Service is why we have been chosen as one of the Best Fleets to Drive For and Top Fleet Employers for 2016. Our Sustainability and Success depends on them and the behaviours they continue to bring to Bison Transport and our industry.
Thank you to all of our Bison Drivers and all those that support them!