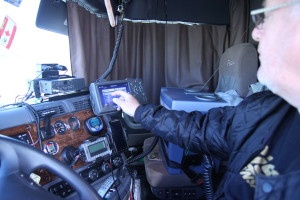 It's clear to see that the impending electronic logging device (ELD) mandate will have a major impact on professional Drivers and their carriers, but how will it affect shippers?
Just as ELDs can be used to maximize efficiency gains for Drivers and carriers, shippers will also have an opportunity to increase their revenues by streamlining their processes.
With this new technology, a Driver's clock can't be stopped once it's running, so shippers have to focus on how to maximize a Driver's time to ensure loads can be delivered on-time and within the law.
Bending the rules is no longer an option, and pressuring a Driver to ignore hours of service regulations is certain to be a costly decision under the new mandate.
But more than just having an impact on the ability to move individual loads, the ELD mandate is likely to influence how shippers select carriers and vice versa.
Shippers should be interested in learning how advanced a carrier is in leveraging this technology. Some carriers have been on ELDs for a while and understand how to maximize its potential as a planning tool while others will wait until the last minute to make the switch and lack that understanding as a result.
As a shipper, ask questions. This is not merely a compliance device; it's a technology that can be used to gain a leg up on the competition. How long has the carrier been using ELDs? What efficiency gains have they realized using ELDs? How can the carrier leverage ELDs to benefit the shipper?
By the same token, capacity is tightening, giving carriers the luxury of choosing those accounts that are most profitable. With some carriers going as far as to list "Shippers of Choice," it's important for shippers to be conscious of a Drivers time. With ELDs, carriers know when a Driver gets to the shipper and how long that Driver is there, so if a shipper is consistently wasting a Driver's time, they may lose access to the best carriers.
Shippers can improve Driver efficiency by being flexible with appointment times, expediting loads and unloads, using drop and hook instead of live loads when possible and providing overnight parking options.
The buzz around ELDs has largely been centered on Drivers and carriers, but shippers are sure to be affected as well. By embracing change and carefully choosing carriers who are committed to maximizing the technology's potential, shippers can position themselves for success under the new business conditions.
This is the fourth installment in a four-part series about ELDs and the potential impact of the impending mandate:
Part 1: ELD Mandate: Pesky Compliance Device or Efficiency Creation Tool?
Part 2: ELD Mandate: Impact on Drivers
Part 3: ELD Mandate: Impact on Carriers