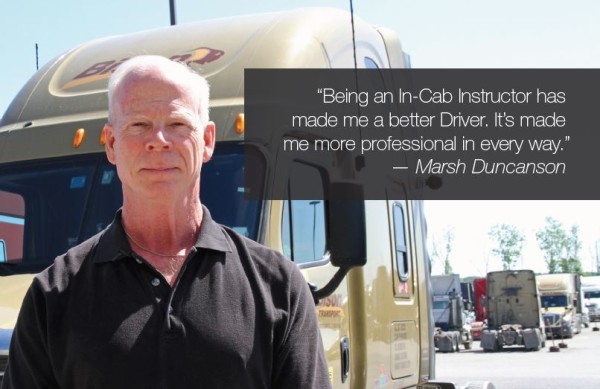 In today's favourable job market, experienced transport drivers are being given greater opportunity to increase their earning potential. In addition to base rates, carriers are offering safety bonuses, lane premiums and other incentives to persuade drivers to join their fleet.
Rarely, however, do transport drivers have the opportunity to advance in their career, increase their earnings and play an active role in the development of their peers as they do as an In-cab Instructor (ICI) with Bison Transport.
Bison's In-cab Instructors earn additional pay while continuing to run in their current lanes. These driving experts play a vital role in developing the next generation of safe, professional Bison Drivers.
"My experience being an ICI has been very rewarding," said Denis, who joined Bison in 2011. "I am on the ground floor of helping new Drivers gain valuable information. New Drivers have to learn how to become safe and confident professional Drivers, that's where the ICIs come in and work with individuals at their comfort level."
Drivers participating in one of Bison's development programs are joined in the cab by an In-cab Instructor, who will provide their colleague with valuable advice and help them progress through the program, continually improving their skills behind the wheel.
ICI's earn $75 per day in addition to their mileage pay and are offered a flexible schedule to ensure they can continue to run consistent miles. Hotel arrangements can also be made on the road to ensure both the ICI and the learning Driver's privacy
"Having a person in the cab with you is a wonderful change from being alone day in and day out," said Roberto, who also joined Bison in 2011. "Bison allowing you to choose when you want to have a student allows you to get in the alone time you may need as well."
Denis and Roberto were both initially students in Bison's Driver Finishing Program before eventually becoming ICIs, so they have a particularly strong understanding of the value ICIs provide to Bison and our Drivers.
"The main reason I decided to become an ICI was to pay it forward because of the excellent training I received," Denis said. "When I meet Drivers that I have worked with down the road and hear about their successes I feel a bit like a proud father. Knowing that you are part of the solution to having safer highways is a huge feather in your cap."
To learn more about joining our fleet and becoming an In-cab Instructor, email us at drive@bisontransport.com, give us a call at 1-800-462-4766 or stop by one of our terminals and ask for Driver Services.