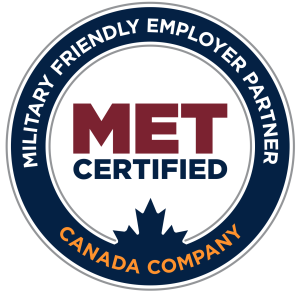 Each year Canada Company, a non-profit organization invested in developing relationships with the business community to increase employment opportunities for Military members transitioning to civilian life, recognizes certain companies who earn the distinction of being considered Military Friendly Employers.
As a recognized Military Friendly Employer, Bison consistently hires Military veterans because the unique skill set they develop in the Forces translates very well in meeting our business needs. The current shortage of professional Drivers and heavy-duty technicians makes sourcing strong talent vital to Bison's success, and we find Military members continue to meet our heightened expectations.
This year, the men and women of Lord Strathcona's Horse (Royal Canadian), a Canadian Forces regiment in Edmonton, Alberta, invited Bison to send a team member to their military base to gain a better understanding of the incredible sacrifice our Forces make and the unique skill sets they possess.
In the first instalment of Bison's three-part "Soldier for a Day" series, Blair Scott, the Terminal Manager for Edmonton/Langley, joins Lord Strathcona's Horse, giving you a two-day glimpse into the life of a soldier.

---
It started at 07:00 when Warrant Officer Ben Holmes arrived at my house as planned. It was neither 06:59 nor 07:01. This was my first indication of just how precise things were in the Army.
The next 24 hours proved to be both exhilarating and humbling. I was about to become a "Strathcona" for a day. Lord Strathcona's Horse is an armored regiment within the Canadian Armed Forces. In short, they have tanks, light armored vehicles (LAVs), drones and highly skilled personnel that know how to use them well.
As we travelled to Canadian Forces Base (CFB) Wainwright, I was briefed on the regiment and how they are preparing to become battle ready. The group I was joining has been living in the wild for a few weeks setting up base camps, conducting a variety of reconnaissance missions, working on troop advancement and hammering the mock enemy with endless tank and small arms fire.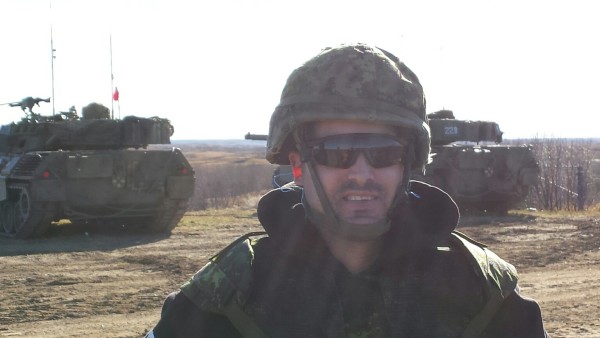 We arrived at base around 10:00, when we were greeted by several members of the regiment wearing the typical green camo outfit, without firearms or paint at this point. We toured the various buildings at the base and got a briefing on what army life is all about. After exploring the facility, we loaded up on a bus and started the 20-minute journey into Alberta's wilderness, led by a few armored jeeps.
As we travelled further off the beaten path the reality of what was in store for me began to sink in.
We arrived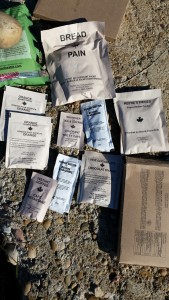 at a series of tents which would serve as our home that night. We each grabbed a sleeping bag, claimed a cot and were issued our personal protective equipment (PPE) for the day. The same soldier that quietly knocked on my door at 07:00 ensuring he did not wake my kids was again in front of me, however he was now wearing war paint, a helmet, a bullet proof vest, ballistic eyewear and over his shoulder I noticed his C7 automatic rifle and a 9mm side arm. These were his real work clothes.
We travelled to Range 16 for lunch and some live fire range time. We all received an individual meal pack (IMP), the military term for lunch. The "pack" was a brown bag filled with enough calories to tower a Big Mac combo, but it was also a well-balanced meal that would enable a soldier to march on through the day and night.
After lunch we received a safety briefing from the Range Safety Officer (RSO) and it was time to play. We broke into three groups and embarked on a three-part range exercise. Part one was to shoot from a Leopard tank at a target just over two kilometres away, part two had us firing machine guns at a variety of fresh fruit and part three enabled us to rip up the countryside in the same tanks we just finished firing. I don't think there is a higher form of masculinity than what we were about to engage in.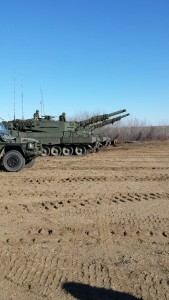 I began by shooting the tank. I was signalled over by the crew of the tank and carefully negotiated my way up to the top of the turret and down through the man hole, into the tight seat just right of the actual cannon. Through my eye piece I had a cross-hair of the intended target just over two kilometres in the distance. It was a four-by-four-foot wooden pallet and appeared clear as day through this scope. The commander had me aim by manually spinning a hand crank that adjusted left to right motion. A similar one affected the vertical angle of the cannon. I was asked to aim slightly right of the target to adjust for the wind. The commander then radioed to the RSO that Call Sign 214 was ready to fire and in turn instructed me to fire. I firmly hit the red plunger with the palm of my hand and the next thing I knew a huge boom rang out as I watched my shell propel through the air and explode on the targeted area. The tank filled with smoke that had an ammonia-like smell unlike that of gunpowder. After a couple of seconds the fans pumped out the smoke and the sound of the shell hitting the target made its way back to us.
As I exited the tank, I pondered visiting the medic to have my smile surgically removed, but opted to stay with my team and proceed to the small arms range. Our enem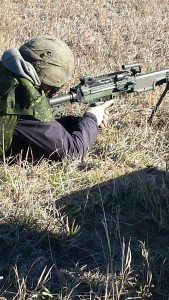 y today consisted of an army of apples, watermelons, oranges and some pop cans. Needless to say, we had the benefit of knowing our enemy wouldn't be shooting back. This revelation set in as I grabbed my first gun, held it snug to my shoulder and proceeded in an attempt to make fruit salad. The kick was mild and the result was positive for the fruit…it wasn't long before I realized that I was a terrible shot! Next up was the bipod equipped C9. This is a fully automatic weapon that allowed me to empty my 30-round clip in a few short seconds. I'm not sure how Rambo made it look so easy!
Our final stop on the range was a 10-minute rip in the Leopard tank. This had me partner with a tank commander and a driver for a ride nothing short of epic. My position was left of the cannon, standing chest high above the turret. For a 70-ton piece of steel, the ride was surprisingly smooth. We raced across the plains, jumped roads, fishtailed through sandy dunes and even made short work of a large tree that attempted to hamper our progress.
When engaged in battle, these units need to appear on the horizon, fire and then retreat back down, only to advance their position and do this all over again. The fuel department at Bison Transport would have a hay day with these things, since they only manage a mere 550 kilometres on 1200 litres when forwarding a position. That equates to 1.07 MPG. As I jumped out of the tank I felt like Disneyland could learn a thing or two from this ride. Then the reality of its purpose again sank in.
Please watch for Part 2 of my experience in the days ahead!
Click here to read about Stephanie Fensom's (Manager, Safety & Compliance) 'Soldier For A Day' experience in 2014.