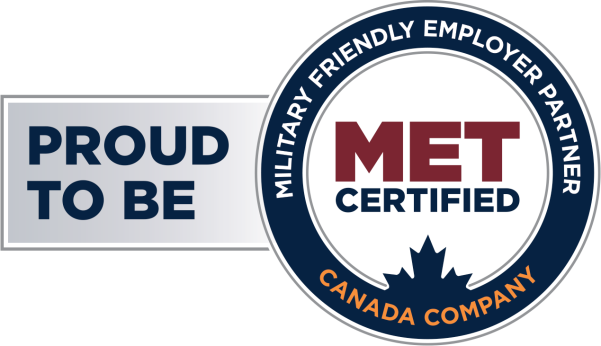 Bison Transport is recognized as a Military Friendly Certified Employer Partner by Canada Company. We are committed to working with transitioning Military Members and Veterans, and their spouses, as they seek employment in the civilian workplace.
The Military Employment Transition (MET) Program's goal is to place 10,000 Veterans in civilian jobs by 2023. Bison Transport is dedicated to helping Canada Company achieve their goal by hiring Military Members and Veterans, and their spouses.
David Cartwright, our Terminal Lead in Edmonton, served a successful 30 years in the Military. He reached the maximum time you can serve and was released in 2012. He spent a total of 30 years in uniform which included 25 years in the regular force as a Tank Commander and a member of Lord Strathcona's Horse (Royal Canadians). During his time with the Forces, he also completed the following 6-month overseas deployments: Cyprus (1988 - 1989), Haiti with 408 Tactical Helicopter Squadron (1995) and Bosnia (1997 & 2003).
David feels strongly that Bison is a great fit for Military Members and Veterans looking to start a new career.
"Any skill set that Bison requires in all parts of their operations has an equivalent skill set in the Military," David said. "Whether you work in Payroll, Dispatch, Warehousing, Operations or as a Driver, Bison excels in training their people and is an excellent choice for those transitioning out of the Military. Military Members bring worldly experience to the table. They usually possess a very strong drive toward mission accomplishment and are willing to see a task through to the end. They have gone through their entire career learning and adapting to unique conditions and situations."
We look forward to continuing our relationship with Canada Company, helping ensure a smooth transition for Military Members and Veterans into civilian life.
To read our other Military blog posts, click here!
For more information about opportunities for transitioning Military Members or Veterans at Bison Transport, please click here!