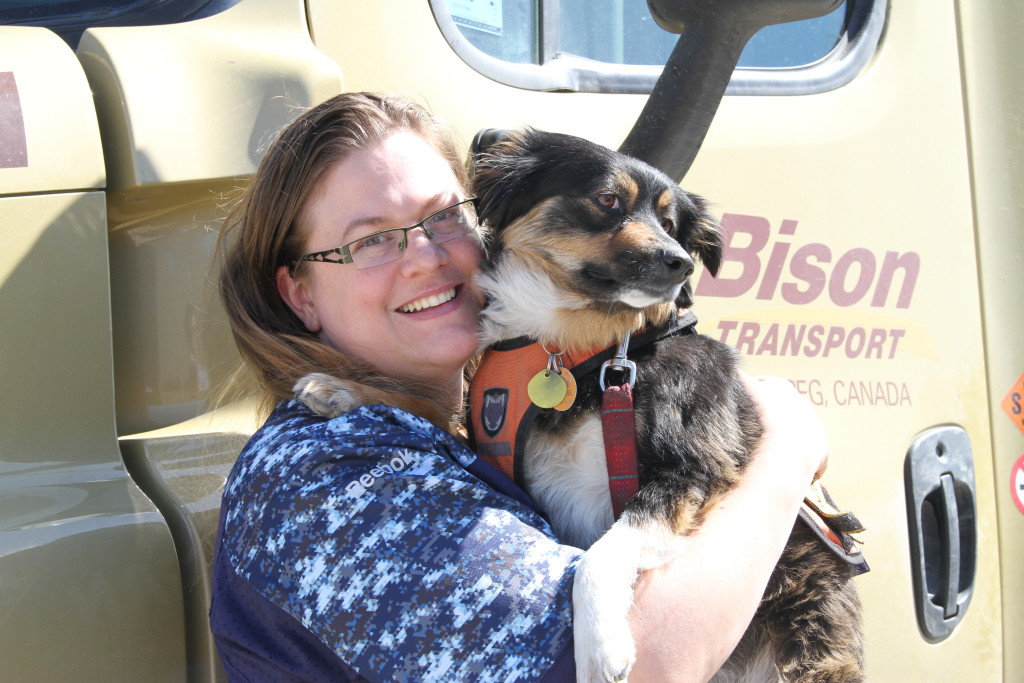 Transitioning from Military life to civilian life was not easy for Kelly Malanik. Kelly left the military in 2005 with an honorable discharge after suffering a traumatic event that left her struggling with Post Traumatic Stress Disorder (PTSD).
During her time in the Military she was a Mobile Support Equipment Operator (MSE OP) and gained a great deal of experience driving military vehicles. After leaving the Military, Kelly used her experience and worked with various companies as a Driver. Eventually the struggle of PTSD took its toll and she was given a service dog from a non-profit group, Courageous Companions, to help her deal with PTSD.
Once she had her service dog, she couldn't find employment that would allow her to bring the dog to work. She went five months without work before she could no longer afford to keep her apartment and was forced to give up her dog.
"Because I couldn't find work, I couldn't support myself and I knew I couldn't support my dog," said Kelly. "I would rather give up my dog than see her suffer so I gave her back to her trainer. That day was rock bottom for me."
After she lost her service dog, she crumbled. She lost her apartment and nearly went homeless before the Veterans Food Bank and the Legion stepped in, finding her a place to live in a hotel until she got back on her feet. She was also connected with the group Military Employment Transition or MET.
MET works with military people who are waiting for release and need help transitioning to civilian life. Through MET she learned about Bison Transport because they were on the list of 'military friendly employers' and it wasn't soon after she connected with Bison Transport at a Flying J job fair in Calgary. She submitted an application and kept calling until she was hired.
"I'm pretty proactive when there is something that I want," said Kelly.
She was drawn to Bison Transport because they want to work with Military members and she knew she had the right experience to be a professional Driver with Bison.
Since starting with Bison in 2014, Kelly has nothing but excellent things to say about the company. She is grateful Bison is accommodating towards her struggle with PTSD.
Soon after starting with Bison, Kelly's medication changed and she needed to take a month off to deal with the new symptoms. She was nervous to ask for the time off, but said her manager was "so cool and understanding" and gave her the time she needed to get adjusted.
"Companies like Bison are helping by trying to understand and be more accommodating towards Military members, especially those of us dealing with PTSD," she said. "It makes it easier to try and get as close to normal as possible, but PTSD never goes away."
Kelly would like to raise awareness about PTSD and how it affects people who deal with it. There is a stigma surrounding PTSD and mental illness. Click here to learn more about PTSD.
"PTSD actually changes the function of your brain. It's based on trauma," she said. "When you have PTSD you deal with things differently than you would have before the trauma."
Kelly worked a full year at Bison before she was finally able to get another service dog. She crossed her fingers when she asked if she could have her new service dog with her on the road.
"Bison was very accommodating and gave me three options to suit my needs," she said. "I was so thankful they allowed me to have a dog."
Kelly's new service dog is a 2 year old Australian Sheppard named Mia. She has been with Kelly for almost a year.
"We are still getting to know each other," said Kelly. "We are training together and she is learning what my needs are."
Kelly would also love to raise awareness at Bison and in her travels about the function of a service dog and how much they help deal with the daily challenges of PTSD.
"Service dogs are not pets or companions. There is a big difference between a service dog and a pet," she explained. "Service dogs are trained for interference. So if I'm curled up in a ball crying on my bed, she is trained to interfere. She'll paw at me or lick my face or bring me a ball to get me out of my funk."
She has been doing her best to inform other Drivers who have pets to understand why she is allowed to have her dog inside the terminal when they have to keep their pets in their trucks.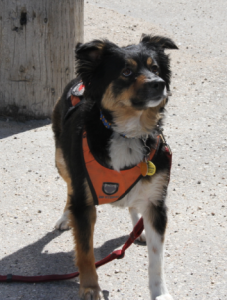 "They are slowly starting to understand that this isn't my pet. This is a service dog and she is working." Kelly said. "When Mia is wearing her service vest she is on-duty and working. When the public has access to me, she has to have her vest on."
Kelly and Mia have developed a close bond and Mia can tell when Kelly is getting stressed out.
"She lets me know when I am at a level 2 stress before I get to a stress level of 10. Then I know I need to calm down," she said. "Everyone has different PTSD symptoms. I tend to talk a lot and have a hard time explaining things. I also have difficulty sleeping and Mia has woken me from nightmares and helped me get through some bad days."
We support our Veterans and we strive to make the transition to civilian life as smooth as possible. To learn more about opportunities for ex-military at Bison please click here: www.bisondriving.com/military