Bison recently participated in a case study that uncovered the Impact of Ride Quality on Truck Driver Health & Safety. Bose, with the help of Truckload Carriers Association (TCA) conducted a study to uncover the positive impacts resulting from the use of their Bose Ride System Seat. Bison purchased 60 seats and supplied 65 Drivers to participate in the trial. The results were compelling!
What does the Bose Ride System (BRS) mean for Drivers?
Although there were many positive findings, the following three benefits stood out:
BRS reduces back pain/discomfort associated with driving. Prior to implementing the BRS, 40% of Drivers in the study noted they had back pain severe enough that it interfered with their work. After using the BRS for 6-9 months, only 1% of Drivers in the study reported that still they had back pain/discomfort severe enough that it affected their work.
BRS reduces fatigue after a day of driving. Before Drivers started using the BRS, they were required to record fatigue levels they experienced after a day of work. 45% of the Drivers reported that fatigue interfered with their work. After using the BRS for 6-9 months, this number fell to 3%.
BRS improves the confidence of Drivers in their ability to avoid a safety incident. Bose seats remove almost all vibration frequencies typically experienced by a Driver using a conventional seat with air suspension. Less vibration increases the visual acuity of Drivers and therefore the confidence they have to avoid a safety incident.
What does the BRS mean for Fleets?
Fleets implementing the BRS can increase Driver productivity. These seats can reduce the number of Driver injury related days off and decrease downtime as a result of fatigue. Although there are upfront costs associated with the BRS, these costs need to be weighed against the benefits of a more productive and healthy workforce. The case study also showed that Drivers using the BRS can expect to have longer Driving careers.
In light of the Driver shortage, the BRS is an opportunity for fleets to lengthen the careers of their Drivers.
In the study, Drivers reported the BRS could be a useful recruiting tool because Drivers want to work for fleets that actively invest in their comfort and safety. Drivers in the Bose trial noted they were 42% more likely to refer someone to their fleet if they were using the BRS.
Why We Joined the Study?
At Bison, we are constantly looking for ways to invest in Driver technology. We have invested heavily into innovative Driver safety and comfort features. All of our tractor units are an up-market "Owner Operator Spec" style of truck. A few of the features we spec include: air-actuated kingpin releases, LED headlights, 12 speed automated manual transmissions, fuel saving HVAC systems and much more. To read more about the safety and comfort features in our company trucks click here!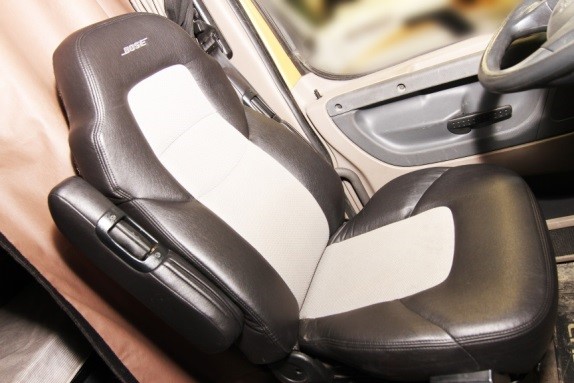 The BRS is another innovative technology to improve the safety and comfort of our Drivers.
Over 165 of our trucks are currently outfitted with the BRS. We are spec'ing many of our new trucks to include the BRS. We will continue to participate in a multi-year study to uncover the long-term benefits of the BRS.
We are North America's Safest Fleet and we didn't achieve this milestone through complacency. Investment in products like the BRS help us improve the safety of our Drivers and the general motoring public as we strive to ensure everyone gets home safely, every shift, every trip, every time!
Do you want to drive for a carrier that continually invests in your comfort and safety? At Bison, we are always looking for ways to improve the work experience for our Drivers. Join a team that cares about your safety, comfort, and well-being. To apply visit us online at bisondriving.com, email drive@bisontransport.com, or call us at 1-800-GO-BISON.
To view the full results of the study click here!
See the Bose Ride Seat and Bison Transport in action on the Discovery Channel!!!