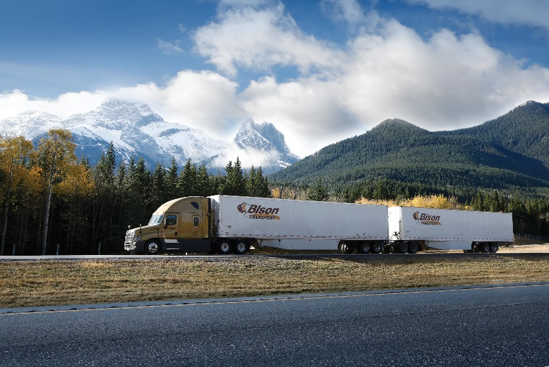 In late 2002, Bison Transport began to dabble with the idea of creating a Long Combination Vehicle (LCV) network across Canada's Prairie Provinces. From its headquarters in Winnipeg, MB, the network quickly expanded to Calgary and Edmonton in the West.
In previous years, we had seen the benefits of using LCVs but we hadn't formally launched an LCV program because of lane density and equipment constraints.
We found it wasn't profitable to take loads to Western Canada because most of what is produced or manufactured in Calgary is shipped out through a pipeline. Rates into the region were not as strong as they needed to be to support the back-haul environment.
In 2003, Bison decided to fully exploit the use of LCVs in the Prairie Provinces. We saw an opportunity to create a network that would provide significant environmental benefits along with gains in efficiency, capacity and Drivers' quality of life. From that point on, every trailer the company purchased has been spec'd for LCV operations.
With a strategic focus on efficiency and sustainability, Bison now leads the industry in the use of LCVs, specifically Turnpike Doubles, which are two 53' trailers coupled together by a converter, pulled by 1 tractor unit. Bison's LCV division has grown significantly, particularly in Western Canada where the model has become the transportation mode of choice for shippers moving freight in/through the Prairie Provinces. We have approximately 285 tractors in our Western LCV fleets, consisting of both Company Drivers and Owner Operators. With the majority of our trailer fleet being LCV capable, we have high capacity levels on our Turnpike network.
Although, Ontario has been slower to embrace LCVs than the West, our fleet has grown to 14 LCV permits that run on the 401 corridor between Montreal, PQ, and Windsor, ON. We are optimistic about the future potential of LCVs in Eastern Canada.
Looking at our entire operation, we have the largest LCV Turnpike fleet in North America. Our LCV division averages over 30 million miles a year, which means 60 million trailer miles! There are many advantages of running LCVs for our professional Drivers, Customers and Bison.

What does our LCV division mean to Shippers?
Customers with freight on our LCV network can expect the same or even faster transit times than single trailer service. Studies have shown that LCVs are statistically a safer mode of transportation than trucks pulling single trailers. For customers, safer transportation means the reduced likelihood of damages or delays. Our customers can also expect reduced costs if their freight is on our LCV network. Since LCVs follow a lower cost model than traditional single trailer service, we are able to pass on savings to our customers. Our LCV division is an excellent choice for organizations looking to implement or improve upon the environmental sustainability of their supply chain. We predict that our LCV division has reduced over 50 million tons of greenhouse gas emissions!
If you would like to inquire about how our LCV network can benefit your business visit us at bisontransport.com, email marketing@bisontransport.com, call us at 1-800-GO-BISON, or click below to contact our sales team.
What does running LCVs mean to professional Drivers?
Our LCV Drivers earn an additional 28% more than what they would have if they were hauling a single trailer. There are also many opportunities for Bison LCV Drivers to work scheduled runs. More than 70% of our Turnpike Drivers are on scheduled runs that allow them to get home every night, or every other night. Since we are a large carrier and are strong in many different regions, LCV qualified Drivers may have additional opportunities to work outside of the LCV network to ensure consistent miles.
Roger Maltman, an LCV Driver based out of Winnipeg, MB, says, "There's always something going on at Bison and if you are looking for a different opportunity, there are many possibilities given their size and strength in many regions."
With almost 40 years in the trucking industry and over 2.75 Million Safe Driving Miles with Bison, Roger trusts Bison will invest in his career development. "I had been driving long haul for years and eventually I wanted a change so I started training to become a LCV Driver. This allowed me to earn more money and I was able to drive within Canada, which is what I was looking for."
What does our LCV division mean to our company?
We have conducted studies that show running LCVs can result in up to 40% less greenhouse gas emissions than if the trailers were hauled individually. You can check out our Greenhouse Gas Calculator here to review the emission savings of running LCVs compared to traditional single trailer service.
Along with reduced emissions, LCVs also reduce fuel consumption. They are a positive way we can decrease our negative impact on the environment.
Running LCV's is part of our commitment to corporate social responsibility and our means of ensuring that we do what is right to protect our business, our jobs, our customers and our environment.
We also offer our LCV Drivers pay premiums, which has led to above average Driver retention levels. Ultimately, resulting in high Driver job satisfaction and savings for Bison.
If you are a professional Driver and looking for more information about our LCV division at Bison visit us at bisontransport.com, email drive@bisontransport.com, call 1-800-GO-BISON, or click below to contact a recruiter.


What are your thoughts on LCVs? Please comment below?