Truck Share is one of the many driving opportunities offered at Bison Transport. With Truck Share, two Drivers share a truck so it never stops moving. Truck Share schedules are flexible and allow for more home time.
Gary Bowley is a Bison Driver and has been driving Truck Share for over 10 years. He feels it is an excellent driving opportunity for the right type of Driver. He works seven days on and seven days off, which for him and his partner gives the perfect amount of home time.
He said there are a few things to consider when taking on a Truck Share schedule.
"It's extremely important to have a compatible partner," Gary said. "For instance, I always work Christmas because he has a family and grandkids and that's important for him. If he needs holidays I'll work the whole time for him. We make it work."
He also added that the trick to making it work is communication. "We talk about everything. If I hear a noise, I let him know right away so we both know about it and can get it fixed."
Also, he encourages setting ground rules before you start a Truck Share program and says things like cleaning, maintenance and fuelling should to be discussed.
"For instance," he says, "My partner cleans the truck when he is done with it. He takes out all his personal belongings and fuels the truck for me, so when I get in, I'm ready to go. I do the same thing for him."
He said Truck Share is ideal for him and his partner because they both love being able to Drive while getting the extra home time that Truck Share provides.
"We don't look at it as a job. We go out and do what we do. It's fun for us," he says. "Driving a truck across North America is fun and I love it."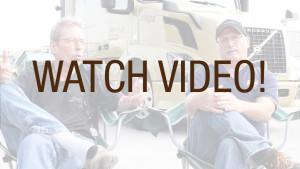 Truck Share at a glance:
7 days on 7 days off allowing more home time
Average 500 miles per day for 7 days
Work 15 days per month
Scheduled days out and days home
Company benefits
Ability to slip seat on week off for additional miles
Visit BisonDriving.com or see Driver Services today to learn more about Truck Share and other Driving opportunities!
Next Post: Our Trucks Are Amazing! Learn about what equipment we use at Bison.