In our continuing series called Meet the Herd, we bring you inside the Bison offices and showcase the talented folks who make a difference to our clients and our team. They are the faces you see behind the wheel of our trucks and the voices on the front lines communicating with clients and our Drivers.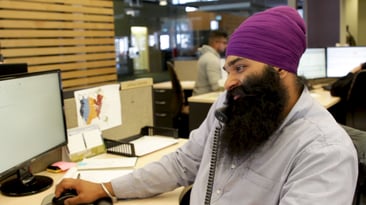 In this instalment, we meet Jaipaul Rakhra, a city fleet manager in our Mississauga terminal. He has been part of the Bison family since 2015.
Prior to trucking, Rakhra worked in retail and retail management. Even though he handled products that were shipped to retail locations, Rakhra didn't realize the number of industries trucking affects. After all, a large majority of consumer products are shipped by truck. Now, Rakhra isn't on the receiving end of goods in a retail environment, he's part of getting them from point A to point B.
Check out the video below to see one of the many exciting roles at Bison and what happens with Rakhra's team.
Previously:
A Day in the Life: Planning Specialist
A Day in the Life: Customer Service Representative