In our continuing series called Meet the Herd, we bring you inside the Bison offices and showcase the talented folks who make a difference to our clients and our team. They are the faces you see behind the wheel of our trucks and the voices on the front lines communicating with clients and our Drivers.
In this instalment, we meet Brooke St. Jacques, a Bison Planning Specialist in our Calgary terminal. She handles U.S. and Pacific Northwest planning.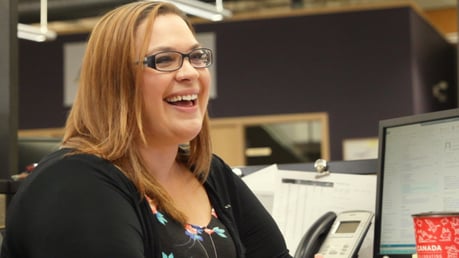 St. Jacques has been part of the Bison family for 10 years and has held many positions throughout her time with the company. When she first started working in the industry, St. Jacques had a misperception about trucking and the type of environment she would be exposed to. What impresses her most is that Bison has done everything to break down those stereotypes and create a comfortable, fun, professional and stable work environment for employees.
Check out the video below to see what happens with our fleet operations team and one of the many exciting roles at Bison.
UPDATE: Since this video was produced, St. Jacques has been promoted to Supervisor of Highway Fleet Operations in Calgary. (We really do invest in our people! Congratulations, Brooke!)
Previously: A Day in the Life: Customer Service Representative