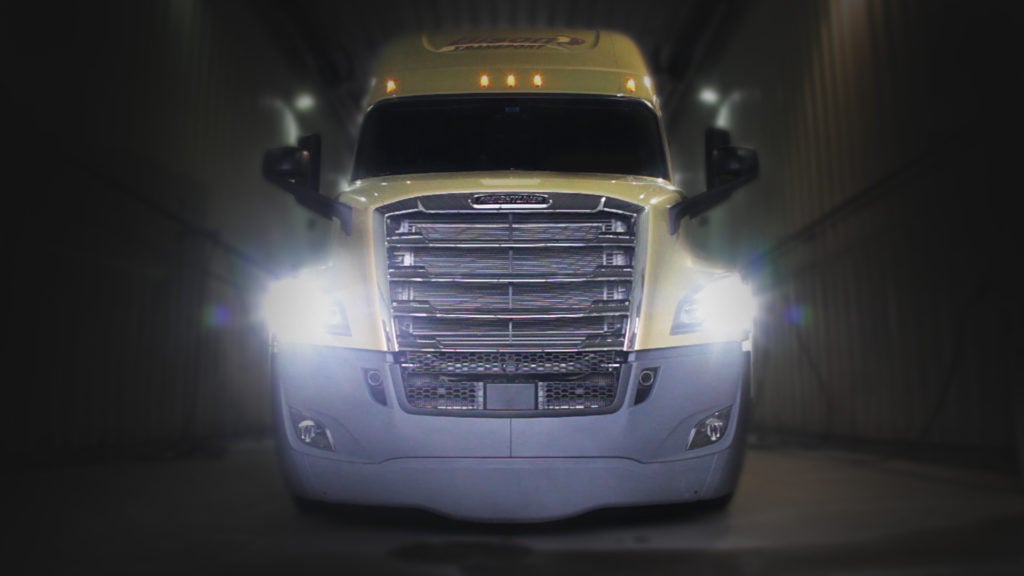 At Bison Transport, we're always keeping up with the latest advancements in trucking equipment and technology. We pride ourselves in keeping one of the most modern fleets on the road. Sometimes, our dedication to keeping up with the times is recognized in special ways and we get the privilege of testing new equipment.

In September, Daimler Trucks unveiled the latest model of its Freightliner Cascadia, which will be released to the public as 2018 models. Freightliner has entrusted Bison with one of 12 pre-series units in North America so we can provide feedback on the truck's performance.

Now, on to the truck's many great features…

This is the first full re-design since Freightliner introduced the Cascadia in 2007. According to Daimler (Freightliner and Detroit Diesel's parent company), it will achieve as much as 8 percent in fuel savings over the current Cascadia Evolution model.

Some of the key design features of the new trucks include:
New one-piece windshield design with improved wiper coverage
Impressive-looking full LED headlight system
Completely re-designed interior
Greatly improved switch and control placement
Dimmable LED ambient lighting
New 5-inch instrument display located directly in front of the driver in the middle of the instrument panel
New steering-wheel mounted controls that allow the driver to control almost anything such as diagnostics, audio controls, driving assistance, setup options, trip information and more
Invisible from the outside, steering and handling improvements have also been made. These include:
New front suspension features longer taper-leaf springs that provide an extremely smooth ride and improved stiffness for cornering
Steering system moved further forward, making the steering more precise
Engine and cab mounts designed with a very quiet and vibration-free driving experience in mind
Optional insulation package featuring Thinsulate® insulation
Improved door seals to reduce sound, vibration, and to better protect drivers from wind and cold
Improved creature comforts including
Increased storage space
Usability improvements in the sleeper area
A convenient fold-up ladder to access the upper bunk
A new safety package, called Detroit Assurance 4.0, features Active Brake Assist with three stages of collision mitigation, and Adaptive Cruise Control that automatically adjusts the truck's cruising speed to maintain a safe following distance. This system uses radar that tracks up to 40 objects simultaneously, up to 825 feet in front of the truck, and will identify the top 6 vehicles by level of threat, with a speed, distance and time refresh rate of 200 times per second. There is also an optional camera system available that tracks the truck's position within the lane and features audible lane departure warnings.
Judging by the improved safety statistics Bison has experienced with older but similar systems installed in both our Freightliners and Volvos in the past, we should see even greater safety improvements with this high-tech system.
The new vehicle will also offer advanced connectivity that will allow Bison's Maintenance department to monitor the vehicle's performance remotely, providing us with more information that will help our Drivers to keep moving. The technology will even allow over-the-air software updates to be sent to the truck when needed.

Bison Transport is very pleased to test this new high-tech tractor with one of our well-known award-winning Drivers, Jack Fielding. He has accumulated over 1.6 million consecutive accident free miles with Bison as a long haul and turnpike (LCV) Driver, with well over 3 million accident free miles driven in his 40 year professional driving career. Jack has also been an In-cab Instructor, a member of Bison's Driver Advisory Board, and a member of the 2011-12 Ontario Road Knights team. He was named as the 2013 Company Driver of the Year by the U.S.-based Truckload Carriers Association (TCA), and the 2015 Driver of the Year by Volvo Trucks Canada and the Ontario Trucking Association (OTA). He is an overwhelming supporter of the industry and we are very proud to have Jack on our team and to have him testing this new truck!
Watch for Jack on the road and give him a wave!