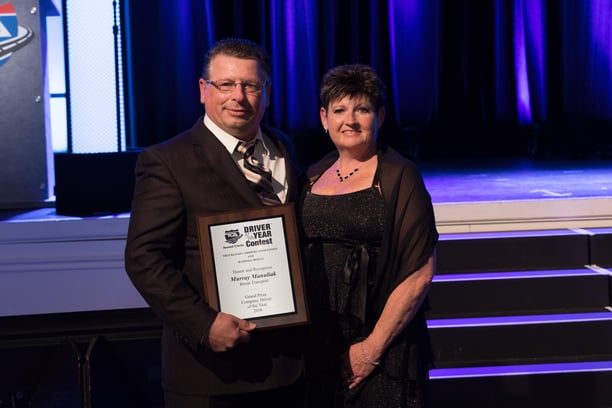 I'm overwhelmed and honoured to have won Company Driver of the Year at this year's Truckload Carriers Association Convention. I was completely shocked, and am immensely humbled by it – I don't think it's quite sunk in yet. It was a phenomenal experience to be able to get together with drivers from all over North America and spend two days learning from one another, and the entire weekend is one I won't soon forget.
Not only did we get to experience the learning aspect of the convention during workshops and seminars with other transportation industry folk, but we got to celebrate everyone's accomplishments. The trucking industry really is like a big family, and to me, everyone who was nominated for an award was a winner!
I'm proud to represent Bison with this award, and I truly couldn't have done it without the support of everyone at Bison, and my supportive wife and family. I work hard to be a positive influence in our industry, not because I want recognition, but because I want to be a positive influence on others, and this award is validation that what I'm doing is the right thing.
Here's a video of me accepting my award. As you can see, I was overcome with emotion!
Want to join the Safest Fleet in North America? Apply today!