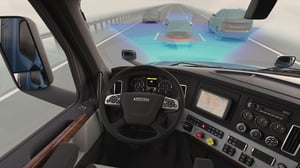 At its core, shipping is a simple process: Move items from point A to point B. Approaching logistics (or really anything) through too narrow a lens is problematic for many reasons. For years, the logistics industry, and many others, have been falling behind the technology curve. The doubling of computer processing speed every 18 months, known as Moore's Law, is just one example that technological change occurs at an exponential rate.
Now more than ever, it's critical to integrate effective supply-chain management with technologies that can help optimize and automate the activities that keep freight moving. Supply chain has increased demands for data, enhanced visibility, and cost-savings opportunities through technology, and it's vital to evolve as this develops.
Bison's investment in technology covers a broad range of areas. Asset-based technology in semi-autonomous vehicles that combine adaptive speed control, automatic emergency braking and lane-departure warning systems. Trailers that use iOT to determine GPS location, multi-zone temperature control (with remote controls), trailer skirts (device affixed to the underside of a semi-trailer for the purpose of reducing aerodynamic drag), trailer tails (device affixed to the back of a semi-trailer for the purpose of reducing aerodynamic drag) and trailer tire pressure monitoring systems that enable real-time tire pressure to ensure proper inflation. All the systems have a common goal: to increase fuel efficiency, improve stability and visibility, and increase safety and peace of mind. These are just a few examples of the external technology Bison is investing in.
Let's shift focus to some less-tangible examples of technology impact on process flow. Bison has a team of business and system analysts that direct a large amount of focus to driving (not physically) value through process improvement; introducing efficiencies to remain competitive.
Bison has streamlined many (previously) manual processes. For example, using GPS data tracking on its trucks and trailers. Tools such as "Dude Where's my Trailer" help drivers find their trailers in yards (ours and customers), saving them valuable time. This same data assists in automating late warning tracking, elevating customer line of sight with our iTools load-tracing platform, and integrating our partner carriers' telematics data to ensure a One Bison line of sight to positional data, answering the demand for transparency and timely, accurate information.
Technological advances and pressure for shorter delivery times are combining to shorten global supply chains, particularly as the use of technology becomes further ingrained and customization becomes more widespread. Technology is making the world smaller, yet more and more solutions are being created as demand for smarter, more sustainable operations increases. Some call it "Industry 4.0"' – the name given to the current trend of automation and data exchange.
Whatever you call it, Bison is watching emerging forms of process automation and artificial intelligence. For example, Bison recently deployed RPA (robotic process automation), assisting humans in load tracing, detention warning, invoicing and load acceptance, to mention a few.
It's a brave new world, where technology and our employees can work together to improve the state of the logistics industry. Bison is excited to drive into the change ahead.