In a world where information is available, quite literally, at the tips of our fingers, Bison knows our customers expect immediate access to timely and accurate information about their shipments. We monitor trends and actively drive inefficiency out of our business through technology and process improvement. Our leadership – and our dedication to providing total transportation transparency – makes a difference for our customers and their bottom line.
Every aspect of our business is optimized by our use of technology, and many of our customized applications have been developed in-house by our Systems team to suit our customer's needs. We are ready and able to provide our clients with customized solutions that utilize technology to bring efficiency, provide timely information, and drive out cost.
This is especially the case with our in-house developed program, i-Tools. I-Tools allows our customers to know where their load is located at all times. The tool extracts information from our internal databases, presents it in an easy-to-use dashboard, and provides options for our customers to access real-time information about their shipments. Customers with an i-Tools account have access to proof of delivery (POD), bill of lading (BOL) and other documents, saving them time and increasing their confidence in the status of their loads.
i-Tools saves time, making it easy for customers to:
Track Loads
Get PODs
Schedule Notifications
See Load Statistics
Download Reports
Obtain quick access to Account Manager and Customer Service Representative (CSR) contact details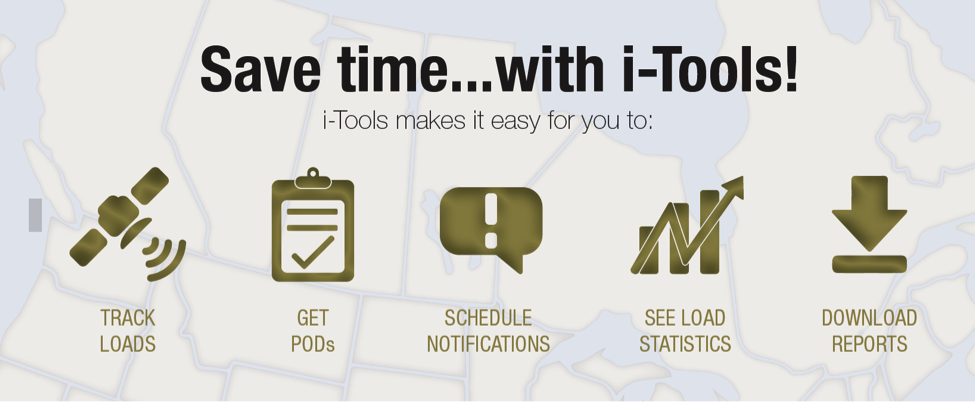 All Bison customers have access to this user-friendly tool. Once a customer is on-boarded, the status of your load is at your fingertips. If you would like to learn more about i-Tools and how it adds Total Transportation Transparency, please contact us today!