In addition to all three Bison companies – Bison Transport, Britton Transport and Searcy Trucking – winning the Volvo Safety Award, Bison has completed another Volvo safety trifecta, as three of our Drivers have been recognized as Volvo Canada's Driver of the Year in their respective provinces this year.
Roger Maltman (Manitoba), Randy Kuryk (British Columbia) and Vern Stratton (Alberta) were each recognized as their provincial Volvo Trucks Canada Driver of the Year for 2016, a result of their exemplary professionalism both on and off the road.
"Roger has been a model of consistency in our organization," said Garth Pitzel, Director of Safety and Driver Development. "He has represented Bison and the transportation industry with the utmost professionalism throughout his illustrious career."
In addition to his Volvo Driver of the Year Award, Roger became the first Bison Driver to reach three million consecutive accident-free miles earlier this year. Even more impressively, Roger has run 1.8 million of his safe miles as part of Bison's long combination vehicle (LCV) network, hauling two 53-foot trailers simultaneously with a single tractor.
"Ultimately it's me behind the wheel, but there are a large group of people doing their jobs with expertise, which enables me to do mine at a high performance level," Maltman said.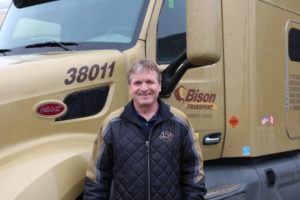 Randy Kuryk, who got his start in trucking with Bison in 1987, was honoured by the British Columbia Trucking Association (BCTA) for his commitment to safety and involvement in the community, enhancing the image of the trucking industry.
"Drivers like Randy are the main component in Bison Transport having been North America's Safest Fleet for so long," Pitzel said. "Randy is a great example of what safe driving should encompass, and the level of professionalism he exhibits makes him a pleasure to work with."
After working with his father on the family farm for 10 years after high school, Randy made the switch to trucking and has really enjoyed his career behind the wheel. He says the improved quality of today's equipment has played a major role in his success.
"These trucks now are the best," Randy said, while accepting his award. "They make my job a whole lot safer and easier."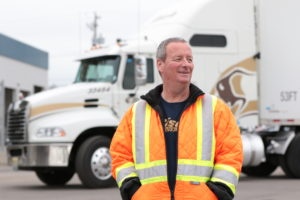 Vern Stratton, now in his 17th year with Bison, was recognized by the Alberta Motor Transport Association (AMTA) after over 30 years of safe driving.
"Safety has always been Vern's top priority, not just for himself but also for the people he shares the road with," Pitzel said. "We are proud to have nominated Vern for the AMTA Volvo Canada Driver of the Year, and know he will represent the award, Bison, our Drivers and the industry with honour."
Vern got his start in trucking while driving for his father, who has provided valuable advice throughout his career. At Bison, Vern has been a Company Driver, Lease Operator and Owner Operator and served for nine years on the Driver Advisory Board, sharing his insight and making valuable contributions to the work of the Board.
Of working for Bison, Vern said: "All those awards Bison wins are so well deserved. The focus on safety and the 'people first' attitude within the company make it an amazing employer to work for."
Congratulations to Roger, Randy and Vern, who continue to serve as incredible ambassadors for Bison and the industry, on and off the road!