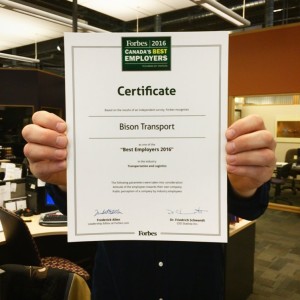 It's been an exciting week at Bison, as we earned the TCA's Grand Prize National Fleet Safety Award, were named 2016's Overall Best Fleet to Drive For and have also been recognized by Forbes as one of Canada's Best Employers of 2016.
The Forbes award makes Bison one of 250 employers who were chosen based on the results of an independent survey conducted among 8,000 Canadian employees working at large companies and institutions from 25 industry sectors. Employees were contacted anonymously online without the involvement of their employer.
Bison was the only trucking company to be recognized, and one of just 12 organizations on the list from the transportation sector.
We take a lot of pride in our people at Bison, and understand that none of the recognition we receive as an organization would be possible without the collective efforts of our incredible workforce, led by our Professional Drivers and Contractors.
With that in mind, Bison has created one of the industry's most comprehensive Driver recognition programs. From safety incentives to mileage milestones, we've got you covered:
Safe Driving Rewards Program
As North America's Safest Fleet, we know the most important thing is to make sure our Professional Drivers, and the people they share the road with, make it home safely to their families. Bison's Safe Driving Rewards Program (SDRP) provides substantial financial incentives to Drivers who stay safe on the road, with the potential to earn up to 15 percent more annually. The SDRP paid out more than $3 million across our fleet in 2015 alone.
Safe Driver Awards
Our Safe Driving Rewards Program is one of the best in the industry, but we don't stop there. Our Driver Awards go the extra mile, providing our fleet with crystal awards, jackets, certificates, lapel pins, tractor decals and more at each safe driving level. Once you reach the one million mile mark, or eight years, you'll earn a 10-karrot gold ring and for every additional 250,000 miles, or two years, we'll add a diamond to that gold ring.
Years of Service Awards
We want our Professional Drivers to have a long and prosperous career at Bison, and we're happy to reward them when they do. Drivers are initially recognized after five years with the company and will continue to be recognized in five-year increments.
Annual Dinner and Awards Celebration
Each of our terminals host an Annual Dinner and Awards Celebration where we hand out our Years of Service and Safe Driving Awards, accompanied by a great meal and even better company.
Driver of the Month
Intended to promote outstanding performance and exceptional accomplishments, our Driver of the Month award recognizes a Driver in each region for their commitment to exceptional service. Not only will you be highlighted on our company intranet and across our social media channels, but each Driver will receive a die-cast model of a Bison tractor and trailer. These Drivers often go on to be nominated for industry sponsored recognition programs as well.
Charging Ahead
Our signature recognition program, Charging Ahead gives employees and customers the opportunity to nominate Bison Drivers and office staff for an exceptional display of our core values: safety, spirit, service, sustainability and success.
National Trucking Week
National Trucking Week gives us an opportunity to spend a full seven days acknowledging the incredible contribution our Drivers make to our organization. We provide each of our Professional Drivers and non-driving staff with a token of our appreciation and also hold a breakfast launch and appreciation lunch for our Professional Drivers and their families in all terminals.
Referral Bonus Program
At Bison, we take pride in the fact that more than 50 percent of our new hires are referrals. Our Professional Drivers and non-driving staff love working for Bison so much that they're happy to invite their friends to join the organization, and we're happy to reward them with a referral bonus for doing so.
If you're interested in learning more about what Bison offers its Drivers, fill out the contact form below or visit our driver recruitment site at www.bisondriving.com.