Bison Transport is North America's Safest Fleet, but do you know the many faces of our refrigerated team? We will feature our members of the refrigerated department here in order to learn about what they do for the department and maybe learn a little about them on a personal level too!
Teri Matthews

,

Western Trailer Specialist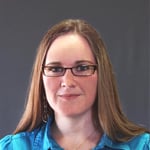 Teri, Western Trailer Specialist, started her career at Bison 14 years ago as a dispatcher for our HWY fleets. "I then moved into our Night Operations and covered dispatch for Western Hwy and City for many years. I joined our Reefer group about six months ago and I am learning there is a whole new world out there," says Teri.
Throughout the day, Teri manages the reefer pools and sets up equipment to be loaded at various customers. "I facilitate the mechanical issues involving reefers and ensure that the correct people are involved to rectify the problem. I also forecast our needs for the next 4 days, to ensure the proper inflow of equipment will be available for the up and coming loads," Teri explains.
When asked, what one piece of reefer advice would you like to give to Bison staff? Teri said, "Ask the question. If something looks out of the ordinary then reach out, this can prevent an issue down the line."
"One fun fact that I have learned in the reefer department is that makeup and perfume are shipped on reefers, their temperature must be maintained in order to keep their consistency."
In her spare time, Teri says, "I enjoy being out in nature, riding my quad and going fishing."
Thanks for letting us get to know you, Teri!
---
Blair Scott

,

Senior Director, Reefer & West Terminal Operations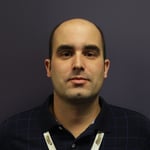 Blair, Senior Director, Reefer & West Terminal Operations, based out of our Calgary terminal tells us about how he got his start with the refrigerated team - "In 2015, Bison created the Refrigerated Division on the heels of continued growth in that segment, combined with a need to enhance risk management and food safety protocols in our business. At the time I was managing the Edmonton and Langley terminals for Bison and was selected to head up this new initiative." Blair continues, "Some of my daily tasks in the refrigerated space include KPI reviews for division performance, assist sales with new business opportunities, network balance, incident investigation, product mitigation and salvage. Also, several staff, Driver and customer interactions pertaining to refrigerated operations.
Blairs says the most important aspect of his job is, "ensuring that every major decision we make takes the company, the customer and the consumer into account when making a determination on food quality and food safety."
When asked, what one piece of reefer advice you'd like to give to Bison staff? Blair said, "Try working with a reefer hands-on. Despite the risks when doing something wrong, there is far more upside in learning how to program, change and diagnose a refrigerated trailer than risks associated with pushing the wrong button. "Please don't fear the reefer".
Blair's fun fact about reefers – "Reefers will not always cool at their maximum ability. Instead it takes into consideration the setpoint and applies the appropriate temperature of air to either cool or heat. A good example would be with produce. If we loaded lettuce and the unit needed to cool from 80F to 34F, it would cool with air slightly below 34F vs blasting it with sub-arctic air to get to the setpoint faster. This would make the difference between the produce freezing or not, even though the setpoint is the same.
In his spare time, Blair says "I enjoy volunteering through coaching sports and scouting leadership. This enables me to give back to the community and spend some good dad time with our boys and their activities. Our family enjoys camping and has a permanent spot that is our home away from home. When able, we enjoy a warm destination vacation in the winter."
Thanks for letting us get to know you, Blair!
---
Chris Spence

, Refrigerated Operations Manager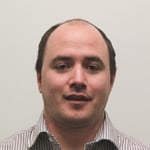 "My name is Chris Spence and I am the manager of refrigerated operations at Bison Transport.
My real journey towards the reefer world was about 5 years ago, when I was indirectly (but also directly) involved with the operation in my weekend leadership role. I made myself the go-to person when a reefer issue should arise, and I took a liking to this part of the business. When I saw the posting for the network supervisor, I didn't even give it a second thought, the job was of great interest to me. This was 3 years ago, and I was awarded this role and have been challenging myself to grow and become a more valuable resource with every passing week. My daily life consists of working with multiple individuals and teams throughout our entire network to challenge inactivity, discover areas of concern and then work with these various teams to move units to the appropriate markets. I have people reporting directly to me that I believe in coaching towards improvement in an on-the-fly manner. We work tirelessly to improve upon our skills as a team so that we can be the best resource within our areas of influence, and keep the trailers moving. Claim mitigation is also a key part of my role. This is achieved through our telematics and other technology that helps us monitor our trailer performance. This technology directs us to any potential challenges so we can work with the appropriate parties to resolve any potential claims. One piece of advice I would give to our Bison team is that the topic of reefers tends to be one that can have big implications, due to the nature of the product. But don't worry, using the channels of communication that we have implemented for our teams to utilize, if used appropriately, will support and help resolve the challenge at hand.
Fun fact on reefers - We have the ability to control any one of our units remotely from our chairs, whether it be 6 miles or 2,000 miles away, We can work through most issues using this technology.
When I am away from work, you can find me doing what I love most on this planet and that's being a dad. This is my most important role, and I am having too much fun with my 3 little ones. Outside of being a dad, I enjoy skateboarding, and when I can get back to the slopes, shredding my snowboard, which are 2 of my other loves in life."
Thanks for letting us get to know you, Chris!
---
Melissa Kortt

, Western Trailer Specialist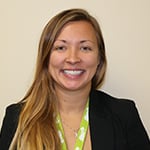 With previous experience in transportation, Melissa began her career with Bison in 2017 in the Calgary city operation. Using the experience and knowledge gained from her city role, she moved over to the refrigerated (reefer) team in 2019.
Melissa says, "On a typical day we work with multiple teams in our region and other regions to build capacity for all types of reefer loads. The needs of trailer types and locations can change daily, so forecasting and communicating our needs are very important in this role."
"We also monitor reefer functions before, during, and after a reefer load is sent on its trip. If problems arise, we are responsible for coordinating repairs with our shops, Breakdown, Planning, Dispatch, and Customer Service teams. We also aid with directing units to the shops for regularly scheduled maintenance," Melissa continues.
Melissa feels the most important aspect of her role is "Being a resource of trailer knowledge. Our focus is reefers, but we are also able to provide information on all types of trailers in our network. If we do not have the immediate answers, we can find the resource that will have the answer."
The one piece of advice Melissa would give to Bison staff is "To reach out to other teams when you have a difficult task that you cannot find a solution for. We have very knowledgeable people that can help to solve almost any issue when we work together."
Melissa's fun fact – "A reefer can display up to 292 different alarm codes!"
Away from work, Melissa will either be at home with a good book, working on a crocheted blanket, or doing anything outdoors. "I love hunting, fishing, exploring the wild, and within the last year found a love for kayaking." Melissa tells us.
Thanks for letting us get to know you, Melissa!
---