Just because you're on the road for many days in a row, doesn't mean you can't eat well. By cooking in your truck you can take control of what goes into your meal. You will also save money by not eating in restaurants. The benefit is you are not dependent on truck stops for your meals. You can share your on-the-road recipe, send to social@bisontransport.com
Bacon Wrapped Shrimp Kabobs

|
Bison Driver Lionel Fortin
(Prep. time 1 hour)
Ingredients:
1 lb. thick cut bacon (cut in half)
20 or 30 raw shrimp shelled, and tail removed
Cherry tomatoes
1 green or red pepper, cut in 1-inch pieces
1 pack mini farmer sausage (sliced)
1 small sirloin steak cut into 1-inch cubes
1 pack bamboo skewers, soaked in water about hour to prevent burning
BBQ sauce
Method: Take 1 shrimp, wrap with half a slice of bacon and put on skewer. Alternate tomatoes, peppers, farmer sausage, steak on skewer. Grill on BBQ, add BBQ sauce near end of cooking, when bacon is cooked, they are ready. The bacon prevents shrimp from over cooking and burning.
Tip – Bacon should be very cold when assembling kabobs, warm bacon stretches.
---
Crock-Pot Beef Pot Roast

|
Bison Driver Lionel Fortin
(Prep. time 10 minutes)
Ingredients:
1 beef roast
1 pack Lipton onion soup
1 can cooked sliced potatoes
1 can mushrooms (optional)
1 can or jar beef gravy
Method: Place roast in crock-pot, add onion soup on top of roast. Cook on high for 5 or 6 hours. Add remaining ingredients, cook on medium for additional 2 or 3 hours. Beef will be very tender and fall apart.
---
Chili

|
Bison Driver Lionel Fortin, Family Recipe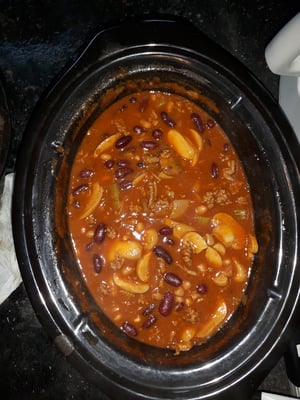 I'd like to share a recipe with you, that is easy to prepare and will be ready once you arrive at your final stop of the day.
Ingredients:
1 lb. ground beef
1 medium onion (chopped)
A few stalks of celery (chopped)
1 can of pork and beans
1 can of kidney beans
1 can of mushrooms (drained)
1 can of tomato soup
2 or 3 tbsp. of chili powder
Salt and pepper (to taste)
Method: Put the ground beef, onion and celery in crockpot on high for about 11 ⁄2 hours. Drain liquid, add remaining ingredients. Cook on high additional 6 to 8 hours stirring occasionally. Cheddar cheese can be added in bowl upon serving.
Enjoy!