Winter in Canada is cold, snowy, and unpredictable. Your best defense against the winter elements is knowledge and a little bit of preparedness. Knowing the signs and symptoms of frostnip, frostbite, and hypothermia can save you or someone you know from a cold weather injury or illness.
Signs & Symptoms of frostnip and frostbite:
Any exposed area of skin or poorly covered area of skin that is exposed to the elements will appear a bright red or deep pink colour.

The area will go cold, will turn pink or red, with or without pain, and then will go numb.

Swelling may or may not occur in the area.

If area is continually exposed to the elements without proper covering or moving to a warm area, the area will then turn white (or white with pink spots) and will have a waxy sheen to it. At this point it has moved from frostnip to frostbite.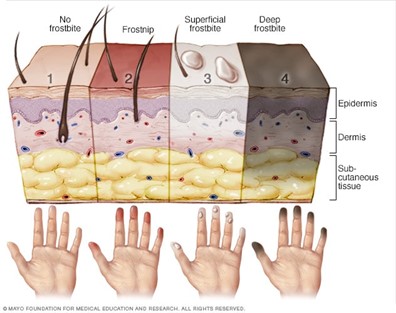 If you notice these signs and symptoms, immediately take steps to cover the exposed area and then move to a warm location (running car, building) as soon as you are able. Do not go back outside until the area is fully warmed (skin temperature should feel like other areas of the body that were properly covered but may still appear pink). DO NOT massage or rub the exposed area to try to warm it up quicker. Remove any wet or damp clothing and replace with a blanket or warm, dry clothing that loosely sits over the skin (nothing tight to the skin).
If actions are not taken at the first signs, signs and symptoms could progress to cause permanent skin and nerve damage to the area.
Signs & Symptoms of hypothermia:
Extreme shivering, followed by an absence of shivering (even when still outside)

Confusion, brain fog, delayed reactions (altered consciousness)

Dilation of pupils

Frostbitten areas moving from numbness to severe pain (with or without a "pins and needles" sensation in the area)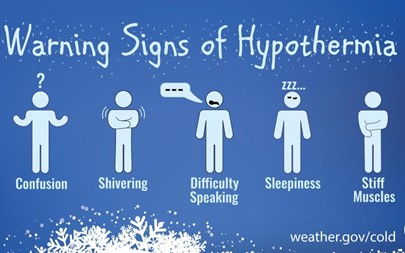 If these signs and symptoms appear in yourself or anyone else, move to a warm location (building, running vehicle) and call 911 immediately. DO NOT try to massage or rub any cold or exposed areas. Remove all wet or cold clothing away from the skin and replace with dry layers, including dry clothing and blankets. Layers will allow for the quickest and safest warming; as the body warms, remove layers as needed.
To prevent frostnip, frostbite, and hypothermia, check weather for the area frequently and dress in layers to allow for warmth – you can always take layers off if too warm, but you cannot add what you don't have with you!
Layers should comprise of at least 3 layers (multiple garments from one layer can be added to increase warmth but all three layers need to be present.
Base thermal layer with moisture-wicking properties: cotton clothing or those with thermal properties (cotton socks, long sleeve cotton shirt, long underwear, or thermal tights). This layer should be fitted but not skin-tight.

Insulating core layer: warm clothing, with or without wind protection (sweater, windbreaker, wool socks (over cotton socks), toque). This layer should fit loosely over the base layer.

Outer protective layer with water- and wind-proof properties: winter jacket, waterproof mitts, or gloves (cold tested to at least -20 degrees), snow or wind pants, and waterproof boots. This layer should be loose over the other layers to allow for proper insulation.
If too warm, layers should be removed before sweating begins to avoid sweat staying on skin and causing the body to cool when sweat freezes once work ceases.
Frostnip and frostbite CAN occur through clothing that is not warm enough! When purchasing jackets, pants, thermal or wool socks, and gloves, be sure to check what the product is cold-rated for (will provide a degree specification – this does not include the wind-chill).