The trucking industry is a powerhouse industry that is relied upon by every Canadian. It drives the economy, makes this way of life possible and ensures that we never go without. The trucking industry would not be where it is today without leaders, pioneers and dedicated individuals who worked throughout their careers to better it.
For 80 years the Saskatchewan Trucking Association (STA) has fought the battles on behalf of the industry, worked diligently to create a better business environment for trucking in Saskatchewan.
The Service to Industry Award (Sponsored by Omnitracs) recognizes those leaders, pioneers and dedicated individuals who have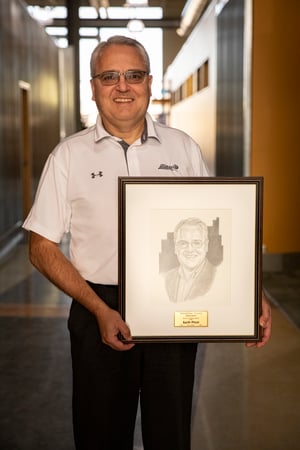 contributed throughout their careers to the industry in Saskatchewan.
The STA Service to Industry Award for 2020 is presented to Bison Transport's Garth Pitzel.
Garth Pitzel has been a member of the STA Board of Directors for almost 9 years. Throughout these years he has been an active board member and served continuously on various board committees providing guidance, input and contributions to improving the trucking industry within Saskatchewan. As a senior STA board member and a longtime industry expert, Garth is looked up to throughout the industry within Saskatchewan on a provincial level, as well as also throughout Canada and North America. Garth's footprint within the trucking industry, and specifically to improving truck safety, has been significant. He shares his expertise freely throughout the industry, regardless of company or position. Despite Garth's large responsibility as Bison Transport's Senior Director, Safety and Development, Garth has continued to make significant contributions to the STA and the trucking industry throughout Saskatchewan, both directly and indirectly, for 20 years. Congratulations Garth!!!